By Kim Jarrett | Watchdog.org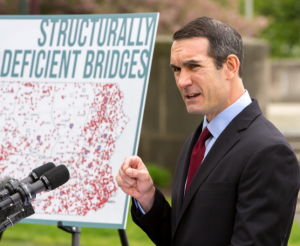 More than $4.25 billion was diverted from Pennsylvania's Motor License Fund to the Pennsylvania State Police over the past six years, according to a report by Pennsylvania Auditor General Eugene DePasquale, leaving PennDOT without enough money to address the state's 2,829 structurally deficient bridges.
Speaking Thursday near Harrisburg's Market Street Bridge, DePasquale said the state constitution says money from the Motor License Fund was supposed to be used solely for transportation projects.
"That $4.25 billion could have cut that list in half and if PennDOT could use all of the gas tax money for roads and bridges we could get that number to zero in about 5 years," DePasquale said. "Pennsylvanians are frustrated that our roads and bridges still need so much help at the same time we are paying the highest gas tax in the United States."
State police used additional funding as municipalities shuttered their police departments.
"The state police need to have funding and there needs to be a solution for that funding source from the General Assembly when these local police departments are eliminated and state police has to do that coverage," DePasquale said. "But that should not be coming out of the Motor License Fund."
The state has other transportation funding problems, said PennDOT Secretary Leslie Richards. The state has the fifth largest state-maintained road system in the nation and the third largest state-maintained bridge system. The Federal Department of Transportation is facing its own budget issues, which means Pennsylvania may have to divert more money intended for bridge repairs and other projects to maintain the highway system.
"They (the Federal government) need to join states like Pennsylvania in significantly investing in our country's infrastructure," Richards said. "While Pennsylvania has stepped up to invest in its infrastructure as much as possible, it's time for federal action to address deteriorating infrastructure nationwide."
The audit also raised questions about how funds were awarded at the governor's discretion through the Transportation Infrastructure Investment Fund. Nearly $65.2 million in projects were awarded between January of 2015 and June of 2017.
"While these may have been very worthwhile projects, my audit team was unable to find detailed documentation explaining how and why they were selected to receive funding," DePasquale said. "I recommend that this program be revised to work like a competitive grant program and steps should be taken to ensure all regions of the state have an equal chance to receive funds."
The grant cycle for the Multimodal Transportation Fund should be accelerated, a move that would make the process more transparent, DePasquale said. The fund helps communities pay for pedestrian safety and transit revitalization projects.