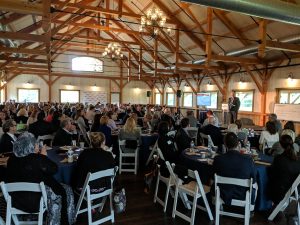 Visit Bucks County is focusing a lot on food and beverages, knowing it is a major draw for tourist.
In celebration of National Travel and Tourism Week on Tuesday, Visit Bucks County took the wraps off its own beer that was created in collaboration with Bristol Township's Neshaminy Creek Brewing Company and Free Will Brewing Company in Perkasie.
The new Sixteen Eighty-Two Kölsch that will be released next week celebrates the Bucks County Ale Trail, which marks the county's thriving beer scene that includes 15 breweries with more on the way. The fruity and crisp Sixteen Eighty-Two Kölsch will be available on tap at a number of local eateries and in cans at several beer distributors.
The tourism agency also is offering a free printed or digital passport that will allow beer drinkers to check-in or get stamped at breweries. After reaching five, drinkers can get a free Bucks County Ale Trail T-shirt.
Visit Bucks County is also launching self-guided a Bucks County Ice Cream Trail, discover distilleries tour, and working on a Mid-Atlantic whiskey trail. This is in addition to Visit Bucks County's support of the nonprofit Bucks County Wine Trail.
The efforts come on top of ramped up work to promote Bucks County's restaurant scene. Among the steps has been the introduction of the Well Seasoned food and beverage magazine, more promotion for the dining scene, and the Visit Bucks County Restaurant Week, which just wrapped up and included more than 70 eateries.
Visit Bucks County Vice President Paul Bencivengo said that food and beverage is among the biggest items visitors spend on when visiting the county.
A University of Florida report from several years ago found that culinary activities are key for tourists looking at where to vacation.
Visit Bucks County's efforts to work with businesses and organizations promote the area's food and beverage scenes and the county's many other arts and cultural destinations seems to be paying off.
Bucks County has seen growth in tourism in recent years, and Bencivengo stated Visit Bucks County is working hard to also improve inter-county tourism.
"Nearly $1 billion in economic impact is generated from 8 million annual visitors to Bucks County," Visit Bucks County President Jerry Lepping said. "Local retail like the antique shops that line Bristol Borough's Mill Street and major attractions such as Sesame Place strengthen every facet of our community."
Bucks County Commissioner Robert G. Loughery acknowledged that tourism is a major economic impact for local government and the private sector.
"Tourism is an important part of our local economy," Loughery said. "The county is proud of the 28,000 hospitality employees welcoming visitors and locals alike. Great service is a critical component to ensure repeat business to our area restaurants, lodging properties and attractions."
Loughery said Bucks County Industrial Development Authority, the Bucks County Workforce Development Board, and Visit Bucks County are taking part in a new Tourism and Hospitality Product Development Assessment initiative. The assessment will bring tourism experts to the county to see the weaknesses and strengths and offer recommendations.
"These recommendations will help us with our strategies," he said, noting tourism has a "big impact on the bottom line."
Bucks County Commissioners Diane Ellis-Marseglia and Charley Martin were also in attendance on Tuesday morning at Rose Bank Winery for the tourism celebration.
In addition, Visit Bucks County awarded $181,000 in tourism grants to a number of groups.
The spring 2019 grant recipients:
ActorsNET of Bucks County
The African American Museum of Bucks County
Artists of Yardley
Arts & Cultural Council of Bucks County
Bucks County Children's Museum
Bucks County Choral Society
Bucks County Tour of Honor
Bucks County Wine Trail
Cantus Novus
Concordia Chamber Players
County Theater
Delaware Canal 21
Doylestown Business & Community Alliance
Experience Yardley
Friends of Washington Crossing Park
Haycock Historical Society
Heritage Conservancy
Historic Fallsington
James A. Michener Art Museum
Johnsville Centrifuge & Science Museum
Mercer Museum
Middletown Grange Fair
New Hope Arts
New Hope Celebrates
Newtown Historic Association
Newtown Theatre
Pearl S. Buck International
Pennsbury Society
Quakertown Alive!
Quakertown Historical Society
Raising the Bar
TMA Bucks Foundation
Trinity Union Reformed Church
Warrington Cares
Visit Bucks County Travel and Tourism Week Award honorees:
Community Service Award: Experience Yardley
Guest Service Excellence Award: Jessica Siedler, General Manager of Homewood Suites Doylestown
Hospitality Leadership Award: Shante Annigew, Director of Sales, Candlewood Suites Bensalem-Philadelphia
Rising Star Award: Nicole Joie, PR & Marketing Coordinator of Bucks County Historical Society
Dedicated Partner Award: New Hope Celebrates