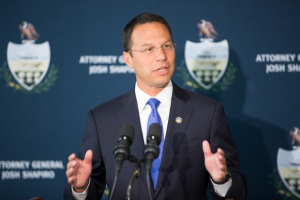 Pennsylvania's attorney general joined officials from more than 40 states to call for the Federal Communications Commission (FCC) to take additional action to stop the growing proliferation of illegal robocalls and spoofing.
Attorney General Josh Shapiro formally offered legal comments to the FCC. The group of attorneys general "urged the FCC to adopt its proposed rules on enforcement against caller ID spoofing on calls to the United States originating from overseas, while also addressing spoofing in text messaging and alternative voice services," according to Shapiro's office.
The attorneys general said that the number of spoofed and scam calls – more than 18 billion of them last year – and the consumer financial losses from the scams have increased by half in recent years.
"Scam robocalls, and the illegal caller ID spoofing that often accompanies them, continue to take advantage of our consumers," Shapiro said in statement. "We need to dial up the pressure on individuals and entities scamming hardworking families and senior citizens out of their money, expose them to risk of identity theft, and generally harass them on a daily basis. I urge the FCC to adopt its proposed rules that will address this growing problem—which is worsening by the day for Pennsylvanians."
The group Shapiro led included Arizona, Arkansas, California, Colorado, Connecticut, Delaware, District of Columbia, Florida, Georgia, Idaho, Illinois, Indiana, Iowa, Kansas, Kentucky, Louisiana, Maine, Massachusetts, Michigan, Minnesota, Mississippi, Montana, Nebraska, Nevada, New Hampshire, New Jersey, New Mexico, New York, North Carolina, North Dakota, Ohio, Oklahoma, Oregon, Rhode Island, South Carolina, Tennessee, Utah, Vermont, Virginia, Washington, West Virginia.