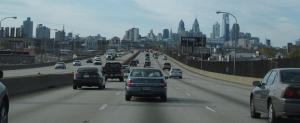 What many consider to be unofficial start of the summer season is upon the region.
More than 500,000 Philadelphia region residents will travel 50 miles or more for the Memorial Day holiday weekend. About 90 percent will be driving to their destinations between Thursday and Monday.
AAA estimates that travel will be up 3.6 percent higher than last year with air travel seeing a 4.8 percent increase.
"After a long winter and soggy spring, locals are ready to pack up the car, or catch a flight, a bus or a train in order to enjoy the warmer weather," said Jana Tidwell, manager of public and government affairs for AAA Mid-Atlantic.
The busiest times for travel are expected to be Thursday and Friday afternoon, as commuters leave school and work early to head to their destination. Mix in regular rush hour traffic and delays could stack up.
PennDOT officials said their 511PA platform, which offers in depth road conditions and camera views, has been updated to display historial travel data to help motorist plan their travel.
"By combining historical holiday travel data with on-the-road traffic information, motorists can more easily plan optimal drive times this holiday weekend," said PennDOT Secretary Leslie Richards.
The average gas price in the region is about $3 per gallon, about 14 cents cheaper than this time last year, but higher than in 2015, 2016, and 2017.
"Despite crossing the $3 per gallon benchmark in recent weeks, a dip in gas prices is welcome news for motorists as Memorial Day holiday weekend road trips are expected to increase for the fifth straight year," said Tidwell.
AAA provided the following holiday road trip tips:
Windshield Wiper Blades – If wiper blades are worn, cracked or rigid with age, they will not adequately remove rain, grime and other debris that can obscure driver vision. If the wiper blades are sufficiently deteriorated, the metal wiper blade frame could contact and permanently damage the windshield.

Tire Pressure – Check and adjust tire pressure, including the spare. Always inflate tires to the vehicle manufacturer's recommended settings—not the maximum pressure molded on the side of the tire.

Tire Tread – Check the tread depth by inserting a quarter upside down into a tire groove with Washington's head facing outward. The tread should cover part of Washington's head. If any of the area above Washington's head is visible, it's time to start shopping for new tires.

Battery – Have your battery checked, especially if it is over three years old. Summer heat breaks down the battery internally and accelerates the rate of corrosion on vehicle's battery terminals.