Provided by Visit Bucks County: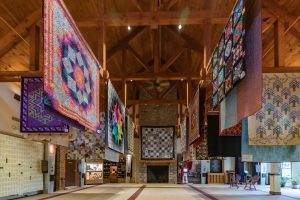 Visit Bucks County will host their 15th Annual Bucks County Quilt Show on display at the Bucks County Visitor Center from June 30 through September 2. This exhibit will feature more than 100 quilted pieces hanging from 25-foot high beams displayed throughout the Main Gallery.
The time-honored craft of quilting has evolved from creating an object that was a necessity of life, into something that not only provides warmth and comfort, but is a true art form in today's world. The Bucks County Quilt Show provides a showcase for the extraordinary workmanship, artistry and talent of Bucks County's quilters.
New this year, two educational speaker events will be hosted at the Bucks County Visitor Center. On July 13 at 2 p.m., Trish Chambers of On Demand! Programs and Events will present "Freedom Quilts and the Underground Railroad." On August 3 at 2 p.m., Running with Scissors Quilters, certified Studio 180 Design instructors, will present "How to Use Studio 180 Design's Tools & Methods."
Additionally, in the Theater Gallery of the Bucks County Visitor Center during this time will be the "Reflections of a Fiber Artist" exhibit by Rose H.V. Miller.
The Quilt Show is free and open to the public Monday – Sunday, 9 a.m. to 4:30 p.m.