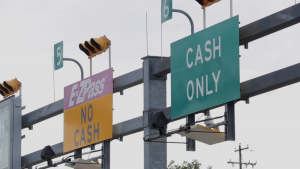 Tolls on the Pennsylvania Turnpike are increasing once again.
The Pennsylvania Turnpike Commission voted to approve a six percent increase starting on January 5, 2020. The increase will impact all E-ZPass and cash customers using the nearly 400-mile system.
Passenger vehicles next year will have their toll increase from $1.40 to $1.50 for E-ZPass customers and from $2.30 to $2.50 for cash customers. Class 5 tractor-trailers will have their cost increase from $3.70 to $4.00 for E-ZPass and from $16.30 to $17.30 for cash. The cashless tolling area on the westbound Turnpike past the Delaware River Bridge in Bristol Township will jump from $5.30 to $5.70 for E-ZPass customers and from $7.20 to $7.70 for those who use toll by plate.
The Pennsylvania Turnpike Commission blamed the toll increases on ever-growing debt payments and costs connected to the mandated funding to pay for PennDOT-backed transportation and transit projects. Some of the fiscal pressure also comes from the Turnpike's 10-year capital improvement project.
"Due to this onerous funding requirement, nearly half of the PA Turnpike's FY 2020 toll revenue will go to pay debt service alone," Turnpike Commission CEO Mark Compton said. "Anticipated toll revenue is estimated at $1.4 billion for the fiscal year, and our debt-service payments are roughly $700 million for the year."
"Since 2007, the commission has increased tolls annually to maintain its aging roads and make good on a funding obligation required by two state laws, Act 44 of 2007 and Act 89 of 2013," Compton said. "As a result, the commission has delivered $6.6 billion in toll-backed funding to PennDOT in the last dozen years."
In recent years, the Pennsylvania Turnpike Commission has been locked in to sending $450 million to PennDOT yearly. The commitment, which often leads to the commission borrowing funds, is in effect through 2022. At that time, the annual payment will drop to $50 million.
The Pennsylvania Turnpike Commission does not receive taxpayer funds and is fully funded through tolls.
The Pennsylvania Turnpike Commission has worked to control expenses, Compton said in a statement, noting they are projecting coming in at $40 million under budget in 2019.
Lawmakers in Harrisburg have talked about the problem before, citing the ever-increasing tolls.