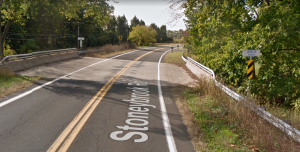 Work to rehabilitate the Stonybrook Road bridge over Jericho Creek will begin later this month.
PennDOT confirmed the Upper Makefield bridge will close on Monday, July 29 and remain blocked off until late August.
"During the closure, Stonybrook Road motorists will be detoured over Route 32 (River Road), Lurgan Road, Street Road, Route 232 (Windy Bush Road), Pineville Road, and Eagle Road. Local access will be maintained up to the construction zone," PennDOT officials said in a statement.
The span has been rated as being in "poor" condition.
The 58-foot box beam bridge was built in 1973 and carried just over 700 vehicles per day.
The work will be completed along with seven other bridges in Bucks, Chester, and Montgomery counties, PennDOT officials said. 
The nearby South Sugan Road bridge over Aquetong Creek in New Hope Borough will also be closed from Monday, July 29 until early September for rehabilitation work.
Contractor Road-Con, Inc. of Chester County won the bid for the $4,475,284 bridge project that is financed with 100 percent state funds.