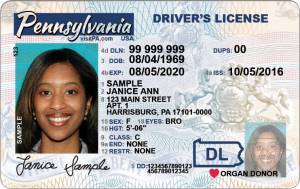 Pennsylvania will begin offering a gender-neutral option on driver's licenses starting next year.
The Associated Press reported this week that motorists will be able to list themselves as male, female, or "X" to mark gender.
A PennDOT spokesperson told the York Daily Record that the new gender option is expected to be rolled out in 2020.
The spokesperson said in their statement to the newspaper that PennDOT has the authority to make the change and does need approval from the legislature.
Pennsylvania's motor vehicle code does not state that a driver's license must contain a person's sex. It notes a license must "contain a distinguishing number assigned by the department to the licensee, the actual name, date of birth, residence address, a color photograph or photographic facsimile of the licensee, such other information as may be required by the department, and either a facsimile of the signature of the licensee or a space upon which the licensee shall write his usual signature with pen and ink."
The National Center for Transgender Equality lists on their website that about a dozen states, including nearby Maryland, offer a gender-neutral option.