By Dave Lemery | Watchdog.org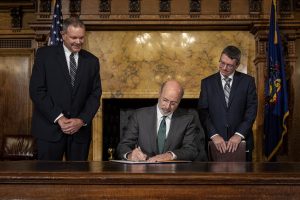 The Regional Greenhouse Gas Initiative is a coalition of Northeast states that have agreed to a series of moves designed to limit carbon dioxide emissions. The map of RGGI states currently shows a significant gap where Pennsylvania would be if it was a member.
On Thursday, Gov. Tom Wolf put Pennsylvania on the path toward closing that gap by signing an executive order that directs the state to move toward joining RGGI.
"Today, we will begin the rule-making process that will allow Pennsylvania to be part of the Regional Greenhouse Gas Initiative," Wolf said during a news conference. "That's a multistate cap and trade program that has proven to be good for businesses, to be good for consumers and good for the environment."
As Pennsylvania Environmental Secretary Patrick McDonnell described it, once the state becomes a member of RGGI, energy companies will have to buy "credits" to account for their carbon emissions. That cost in turn will factor into the prices they offer when they put their power on the open market. Transmission companies like PJM in Pennsylvania, which aim to get the lowest prices possible, then become more likely to favor power sources that don't have carbon emissions.
The states that currently make up the RGGI pact are Connecticut, Delaware, Maine, Maryland, Massachusetts, New Hampshire, New York, Rhode Island and Vermont. Maryland and New Jersey are in the process of joining.
The governor wasn't willing to speculate Thursday how much revenue the state might realize from the sale of carbon credits, but he insisted that membership in RGGI has been an economic boon to the states that make up the pact.
"The nine states that have been participating in the program for the past decade have seen their GDPs grow 31 percent faster than the rest of the country," Wolf said. "Their electricity prices have actually fallen by 5.7 percent, while the rest of the United States has experienced price increases of 8.6 percent. And they've experienced a drop in carbon dioxide emissions at a rate that is 90 percent faster than the rest of the country."
The potential for Pennsylvania to join RGGI was the topic of a House Environmental Resources and Energy Committee hearing in late September at which Republican lawmakers expressed concerns about what it would mean for the state's economy. At the time, McDonnell was reluctant to give much in the way of details to the committee, insisting that it was too early in the information gathering phase for the Wolf administration to provide any hard data.
After word emerged Thursday of the governor's executive order, a series of statements from Republican legislative leaders sounded a wary note about the move.
"This move calls for another new energy fee on Pennsylvanians," House Republican leaders said. "Taxpayers will pay more every time they flip a switch, make breakfast or charge their phone. We strongly disagree with Gov. Wolf's continued practice of go-it-alone approaches that are unhelpful in working cooperatively to move our Commonwealth forward in a way that best represents the interests of all Pennsylvanians."
State Sen. Gene Yaw, R-Williamsport, the chairman of the Senate Environmental Resources and Energy Committee, argued that Pennsylvania is already surpassing the RGGI states in cutting emissions.
"I support efforts to reduce greenhouse gas emissions, but it is worth noting that, since RGGI began trading allowances in 2009, the current nine RGGI states have reduced carbon emissions by 17 [percent], while Pennsylvania has reduced carbon emissions by 28 [percent]," Yaw said. "This was accomplished all without government mandate and at great savings to consumers."
Environmental groups were quick to support Wolf's move, arguing that it would benefit the state's economy and environment.
"This is a decisive signal that Pennsylvania is stepping up its climate leadership," said Mark Szybist, senior attorney at the Natural Resources Defense Council. "As the legislature pushes subsidies for fossil fuels, Governor Wolf is putting Pennsylvanians on the path to a cleaner, more prosperous future."
Wolf, asked at his news conference if he was concerned that lawmakers might take steps to prevent the state from joining RGGI, seemed to issue a challenge to Republican leaders.
"This is something we shouldn't be playing politics with," he said. "This is something that is a common challenge for everybody on this planet, certainly everybody in Pennsylvania. Again, it doesn't matter what your political beliefs are, what your ideologies are, where you live. It's something that affects all of us. And we have a joint interest in doing this."