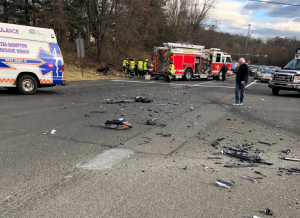 Police said there were injuries in a serious Thanksgiving crash on the Newtown Bypass in Newtown Township.
The crash happened on the Bypass at Buck Road around 2 p.m. Multiple vehicles were involved, including one that was pushed off the multi-lane roadway and onto an embankment.
In a statement, police said the crash involved three vehicles and injuries were reported.
Bystanders said that trucks from the Newtown Ambulance Squad, Penndel-Middletown Emergency Squad, and Tri-Hampton Rescue Squad were on the scene along with the Newtown Fire Association.
As of 2:45 p.m., traffic in the area of the intersection remained jammed due to the crash.