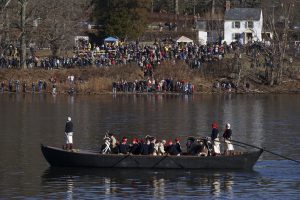 For the 67th time, Washington Crossing Historic Park will host reenactors' journey across the Delaware River on Christmas Day.
The free events surrounding the internationally-known reenactment at the Upper Makefield state park will run from noon until 3 p.m. The actual crossing of reenactors' in Durham boats will take place around 1 p.m.
John Godzieba, the Langhorne Borough police chief who portrays Gen. George Washington during the event, said that a check of the water levels showed the river will be safe to cross on Wednesday.
Thousands of spectators are expected to gather to watch the reenactment of George Washington's daring 1776 Christmas night river crossing.
In 2018, the crossing was called off to high water levels fueled by heavy rains.