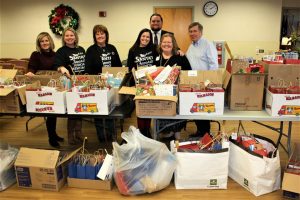 A group of Bucks County employees helped collect gifts for elderly residents.
"Poppy's Project," a holiday program started by county judicial secretary Jessica Frost as a way to remember her late father, set a goal of collecting 500 packages of toiletries and other personal items to assemble and distribute to elderly Bucks Countians this season. By last week, enough donations for 550 gift bags had been collected.
County workers put together the gift bags and distributed them at Neshaminy Manor in Doylestown, Harborview in Doylestown, Pickering Manor in Newtown, and ManorCare in Lower Makefield. Hospice packages were delivered to Compassus in Fort Washington, Montgomery County.
The county said President Judge Wallace Bateman Jr. let volunteers turn the judges' conference room at the Justice Center into a lunch-hour packing station. Judge Robert Mellon used his chambers as a collection and storage area for all the donations.
"Poppy's Project" is in its third year.