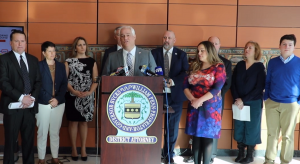 The Bucks County District Attorney's Office announced Wednesday that they have filed a lawsuit against e-cigarette maker JUUL Labs.
In discussing the legal action that was filed in the Bucks County Court of Common Pleas, District Attorney Matt Weintraub said the company has used "deceptive and predatory" marketing to target youth.
The 63-page lawsuit alleges that the company violated the ban of marketing tobacco products to children and has violated the Pennsylvania Unfair Trade Practices and Consumer Protection Law. It claims that California-based JUUL Labs and New Jersey-based JUUL pod manufacturer EONSMOKE LLC actions are harmful to every citizen and the more than 100,000 school-aged kids in Bucks County.
"Through deceptive marketing that targets our children and with its network of retailers, JUUL has created a public health crisis," said Weintraub. "Together we are sending an unfiltered message to JUUL and to all retailers who knowing traffic e-cigarettes to minors: your false, deceptive and harmful business practices will not be tolerated in Bucks County."
Gas stations Gulf Martin in Quakertown and Delta Gas (owned by Lehal Associates Inc.) in Warminster were also named in the suit. The two businesses have previously been busted for illegal sales of e-cigarettes to minors by the U.S. Food and Drug Administration, Weintraub said.
The district attorney explained authorities will continue to target retailers and adults who are breaking the law by selling e-cigarettes to youth. Some violations could fall under the criminal code.
Pennsylvania recently increased the legal age to purchase tobacco products from 18 to 21.
The lawsuit states that while youth smoking rates started falling in the late 1990s, JUUL has "sought to fill the void left by Big Tobacco by introducing a new-age electronic cigarette that is so addictive" it has led to an increase in youth substance use.
Weintraub said the use of JUUL products hurts kids' health and can led to burdons on government services as it grows.
Central Bucks School District Nurse Carol Klein told reporters that many students believe vaping is safe because the pods use water. However, she noted studies show vaping can be dangerous for the students who are vaping and those breathing in aerosol from the device second-hand.
In the Central Bucks School District, Klein said some high schoolers who have reported vaping have suffered from chest pain, dizziness, unconsciousness, high heart rates, seizures, and other problems. The students only apparent connection was their vape use right before the problem started.
The school nurse also said many students vape throughout the day, including the use of "ghost" and camouflaged devices.
Bensalem School District Superintendent Sam Lee said "vaping is a serious health concern for our students" and distracts kids from school work. He said the cost of testing vape cartridges for THC uses up precious funds.
The Bucks County District Attorney's Office is represented in the lawsuit by Saltz, Mongeluzzi, Barrett, and Bendesky P.C.
"Bucks County is, tragically, among the leaders when it comes to student vaping. For example, while statewide 25 percent of high school students surveyed say they have vaped, in Bucks County that number is greater than 37 percent. As our experts have stated in the complaint, this is a public health crisis," said Patrick Howard, a partner at Saltz, Mongeluzzi, Barrett and Bendesky.
In answering questions from reporters, Howard said JUUL has marketed to minors by showing the product as making users "cool and hip."
The law firm will seek to recover "damages as a result of false and deceptive business practices to the detriment of the public."
"It is important to note that our attorneys in this case will only receive compensation if the litigation is successful, and those proceeds would come from the defendants, not taxpayers," Weintraub said.
"We remain focused on resetting the vapor category in the U.S. and earning the trust of society by working cooperatively with local officials, regulators, public health officials, and other stakeholders to combat underage use and convert adult smokers from combustible cigarettes. As part of that process, we stopped the sale of flavored pods other than Tobacco and Menthol in November, suspended our television, print and digital product advertising, refrained from lobbying the Administration on its draft flavor guidance and support the final policy. Our customer base is the world's 1 billion adult smokers and we do not intend to attract underage users," a JUUL spokesperson said. 
The district attorney said the Bucks County Drug and Alcohol Commission offers assistance to youth and adults who vape.
The district attorney's office said they have support for their lawsuit from the Bucks County Commissioners; Montgomery County District Attorney Kevin Steele, whose county has filed its own lawsuit; Quakertown Community School District; Central Bucks School District; Pennridge School District; and Bensalem School District.
Steele, who was on hand for Weintraub's press conference at the Justice Center in Doylestown Borough on Wednesday, said he hoped parents would be vigilant to make sure their kids stay away from vaping.
"What's at stake her is a generation of teens," he said. "We need to do more."
The Neshaminy School District voted in November to sue JUUL Labs under a theory similar to the one used by the district attorney's office. The district motion said vaping has "created a substantial and ongoing interruption of and disturbance to its education mission."
The Quakertown Community School District voted to sue JUUL in federal court last fall. School officials blamed JUUL for targeting students, according to the Bucks County Herald.
School systems across the nation have either sued or are considered suing JUUL under claims they targeted youth and have created problems at schools.
JUUL Labs was not immediately available for comment.