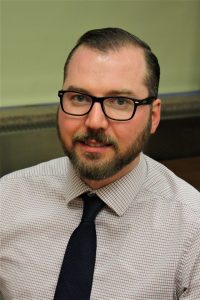 The Bucks County Board of Elections has a new director and a new home.
Thomas Freitag was promoted by at the end of last year to the job by the Bucks County Commissioners to fill a vacant spot that was created when former Interim Director Katie Pliszka resigned last July. Freitag had been serving as the acting director and served through last November's busy election.
The lifelong Trevose resident is a graduate of Archbishop Wood High School in Warminster and Kutztown University.
Freitag joined the Bucks County Board of Elections in 2014 registrar and was promoted in 2015 to election coordinator.
The new director will over see three separate elections in 2019. The first will be a March 17 special election in Bensalem, the April 28 presidential primary, and the November 3 presidential general election, which is expected to have a high turnout.
Freitag will oversee the department as the state is implementing new voting procedures and expanding voting options while the county rolls out new voting machines for the first time in years.
Recently, the Bucks County Board of Elections moved its offices to its newly renovated home on the second floor of the Bucks County Administration Building at 55 East Court Street in Doylestown Borough. The office previously belonged to the Bucks County Recorder of Deeds Office, which has moved to the sixth floor.
The office move is part of the renovation of the Administration Building, which previously served as the courthouse before the Justice Center was opened.