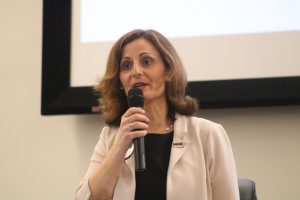 A Democrat for Congress has been accused of using highly-offensive terms, according to a lawsuit filed this week.
Debra Wachspress, who serves as a Pennsbury School Board member from Lower Makefield, is accused by former Pennsbury administrator Sherri Morett of saying offensive slurs used to describe black people, members of the Jewish faith, and gay men during an April 2018 Pennsbury School Board executive session, which is a non-public gathering of school board members and administration that often that takes place before public meetings.
The use of the words by Wachspress only stopped after other school board members "screamed that her comments were highly offensive," Morett claims in her lawsuit.
Morett, who is suing the district, several board members and others, said Wachpress responded that "she was entitled to use these words because she had no idea who was or wasn't offended."
The comments allegedly came as Wachspress was showing support for Superintendent Dr. William Gretzula, who has been accused of problematic actions in lawsuits filed recently and in past complaints.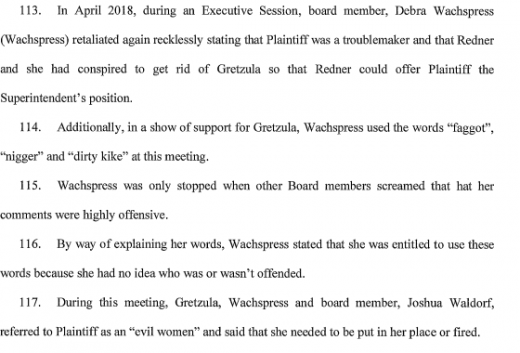 According to Morett's lawsuit, Wachspress, another school board member, and Gretzula referred to the administrator as "evil."
"In an Executive Session, there was a discussion regarding language, specific words, and their effects on all of us. I recounted a story from my childhood in which I was called a 'dirty k***' by a classmate – an incident I still remember vividly 42 years later. Never in my life have I denigrated anyone with words like that. The allegations in this fraudulent suit are complete and utter distortions," a statement from Wachspress said.
LevittownNow.com became aware of allegations of inappropriate comments about a year ago while reporting on problems in the Pennsbury School District. However, this news organization was unable to confirm the allegations to a level worthy of publication until reviewing Morett's lawsuit. In recent weeks, some rumors have swirled in Democratic circles about comments Wachspress may have made as a school board member.
Wachspress, who has children and is married, entered the race for Congress last summer. She has raised significant sums of campaign cash but failed to earn the primary election nominations of the Democratic committees in Bucks and Montgomery counties.
Wachspress, until recently, worked as the relationship development director at the Langhorne Borough-based Peace Center. The nonprofit houses the county bullying resource center and focuses on harboring peace and social justice. Wachspress also serves on a school board that has focused on building the character of students in the district.
The allegations against Wachspress come weeks after Republican congressional candidate Andrew Meehan was accused of "unbecoming" conduct, including a racially-charged comment.
Editor's Note: Publisher/Editor Tom Sofield's father, Chris, is Meehan's campaign manager.