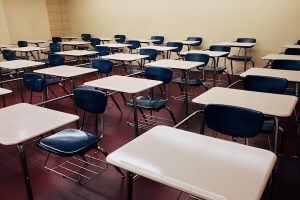 All schools in Bucks County will be closed for two weeks.
School district and county officials confirmed Friday afternoon that all public schools will closed from Friday evening through Sunday, March 29.
Late Friday morning, the Bucks County Commissioners declared a Declaration of Disaster Emergency due to the COVID-19 outbreak.
Local, county, and school officials were briefed late in the morning on the developments and began to break the news early in the afternoon.
"It is possible that executive orders from either the Commonwealth of Pennsylvania or the United States federal government will further expand upon or define this period of closure. At this time, this decision has not yet been officially mandated by either state or federal government authorities. This decision has, however, been fully discussed locally with all public school leaders and the appropriate county government officials," a letter from the Bucks County Intermediate Unit, which works with all of the school districts, stated.
During the closure, students and the majority of school staff will be unable to enter buildings. Districts will limit entry to "essential" workers who will handle cleaning, maintenance, security, and payroll.
School officials noted that there were many unanswered questions as of Friday afternoon.
Bucks County Intermediate Unit Executive Director Mark Hoffman said the decision to close all the schools was unanimously supported by all superintendents.
School districts across Bucks County were hit with call outs from staff who live in Montgomery County, which shut down all schools and licensed child care centers for two weeks starting Friday.
Shortly after Bucks County announced the closure of schools, Gov. Tom Wolf's office announced all schools in the state will be closed for 10 business days.
"The Department of Education will work with intermediate units and other stakeholders to support school districts with any continuity of learning plans they may be pursuing," the governor said.
The Pennsylvania Department of Education announced the U.S. Department of Agriculture will allow eligible schools to serve meals to low-income students in a non-congregate setting. The settings could include drive-thrus or grab and go during the closure. Exact local details are expected to be announced later.
As of 2:30 p.m. Friday, Bucks County only has two positive COVID-19 cases. However, several residents are self-isolated and are being monitored.
Unlike in Montgomery County, the state did not release guidance on the closure of non-essential retail businesses for Bucks County.
With the Declaration of Disaster Emergency, the county opened its emergency operations center in Ivyland Borough. The center will coordinate COVID-19 response efforts and provide regular updates to local government.
Since opening on Friday, the emergency operations center has begun processing municipal requests for personal protective equipment and supplies, ordered face masks and gowns for medical professionals, kept track of school closures, and briefed local officials and community partners, according to memo sent to first responders.
Despite schools closing, county officials and courts were expected to remain open. Despite no closures for county offices, officials have been working on continuity of government plans.
Earlier this week, the county closed the prison and Neshaminy Manor Nursing Home to most visitors.
Middletown announced they will close their facilities to the public starting Friday and continuing through Friday, March 27. They added all township events have been cancelled.
Falls Township has cancelled all public meetings for next week.
As of Friday at 2:45 p.m., there were 33 COVID-19 cases in Pennsylvania. There were single cases in Chester, Northampton, Pike, and Wayne counties. Delaware County had four cases, Monroe had three, and Philadelphia reported three. Montgomery County, which borders Bucks County, has 17 cases and has one person from out-of-state who is being treated.
"While we anticipate that there will be more Pennsylvanians with COVID-19 in the coming days and weeks, it is important for residents to know the commonwealth is prepared and to be prepared themselves," Dr. Levine said. "Right now, you have a higher chance of testing positive for COVID-19 if you have traveled to a country or state with known community outbreaks or have come in contact with someone who has the virus. We are working with the health care community across Pennsylvania to keep them informed, consult on patient testing and ensuring they have the resources they need to care for patients."
The U.S. Centers for Disease Control and Prevention was reporting 1,629 COVID-19 cases and 41 deaths across the nation as of 3 p.m.
In a Friday afternoon briefing, President Donald Trump declared a national emergency. The declaration would free up federal funding and resources to help state, county, and local agencies across the nation.
The president asked hospitals and states to put emergency plans into effect. Federal authorities will gain new abilities to waive some laws to open up the health care system.
The entire Bucks County delegation of the Pennsylvania House of Representatives – both Democrats and Republicans – announced they will head to Harrisburg on Monday along with the state Senate to focus on issues "identified as necessary to assist Pennsylvania in this time of need."
The outbreak of COVID-19 virus has had a major impact on modern American life, the economy, and sports leagues.