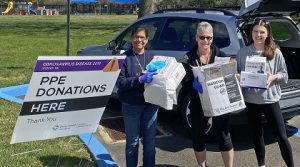 Bucks County Community College's health care education and training program have donated personal protective equipment to regional hospitals to ease the burden of gear shortages during COVID-19.
On Friday, the community college donated 50 boxes of gloves, 120 surgical masks, 20 Personal Protective Equipment (PPE) sets, 40 masks with shields, ten N95 masks, 25 sterile gown packs, 40 pairs of shoe covers, 100 bouffant caps, and 25 isolation gowns.
The donated equipment was delivered to St. Mary Medical Center in Middletown and Jefferson Torresdale Hospital in Philadelphia.
"Given the severity of the situation, we decided to donate any extra supplies we had to help out some of our clinical affiliates," said Dr. Constance Corrigan, a nurse and dean of the health services program.
The two hospitals that benefited from the donations are partners with the community college and host students each semester as they work on the clinical components of health care training program.
Community college faculty members Cassandra Matthews, of the associate degree nursing program, and Colleen Cardilla, director of the radiography associate degree program, gathered the supplies that were donated from the labs at the Newtown Township Campus and the Epstein Campus at Lower Bucks in Bristol Township and delivered them to the hospitals.
While the community college's three campuses have been closed, students have continued to use e-learning.
"While some of the hands-on requirements can be handled through distance learning and video education, a few classes will be awaiting a return to campus to demonstrate skills," Corrigan said. "Associate Degree Nursing and Practical Nursing are utilizing some online simulation activities to compensate for some missed clinical time."