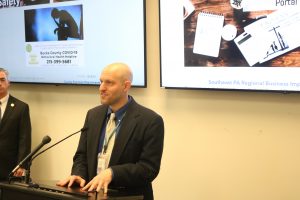 Despite a large number of COVID-19 cases, Bucks County health officials continue to perform contact tracing.
Dr. David Damsker, the county's health director, said contact tracing continues and the immediate focus is on gathering details on emergency responders, medical staff, and essential workers who have COVID-19.
"We do contact in every single case. We still do that even though we're getting 35 to 55 cases every day," he said.
While the county will cross the 400 case threshold on Thursday and has about 10 patients on ventilators at hospitals throughout the county, about 58 patients have recovered from the virus and six have died.
Damsker wanted to make clear that someone who even shows "very minor symptoms" could still "be spreading coronavirus everywhere." He urged people to stay in if they have any symptoms.
For every confirmed case, there are likely scores of others who are not tested and remain at home quarantined, Damsker said.
One key symptom that is being seen in 85 percent of COVID-19 patients in Bucks County is impacts on their sense of taste and smell. Damsker said that appears to be a tell-tale sign of the virus.
During his update, Damsker said that there have been a "couple of cases" of COVID-19 in medical and long-term care facilities. The county health director added he was leaving it up to the facilities on whether to announce it publicly.
Health officials across the nation have raised concern about outbreaks of COVID-19 in senior communities. Senior citizens and those with underlying medical conditions are already at higher risk of getting the virus.
Social distancing efforts may be having an effect as few cases community spread are being detected in new positives, aside from those involving essential employees.
"Social distancing is a real thing … there's clearly less people traveling. There's less people around," he said.
Damsker stated that he believes that in the coming weeks there will be a peak in cases due to social distancing, but noted it was an educated guess.
"I am optimistic because we're not seeing much random community spread," he said,
With more widespread COVID-19 testing, Damsker expects the number of positive cases to continue to tick up. He said some labs are backed up and that may cause higher totals on some days.
Damsker stated that hospitals in Bucks County have been using hydroxychloroquine, an anti-malaria and arthritis drug that may have positive effects on some COVID-19 patients.
While there have been studies with anecdotal evidence hydroxychloroquine can be effective to treat COVID-19, Damsker said it is too soon to show it has been effective in Bucks County.