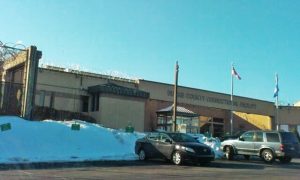 UPDATED: 9:12 p.m., Saturday:
Bucks County Health Department Director David Damsker said the three correctional officers were in isolation at their homes with mild symptoms.
The inmate who tested, according to Damsker, was recently admitted to and was not among the general population. The inmate arrived with mild symptoms and was immediately isolated to limit exposure.
UPDATED: 7:53 p.m., Saturday:
Bucks County officials confirmed Saturday evening that two additional correctional officers and an inmate were diagnosed with COVID-19.
Original Story:
On Friday, a correctional officer who works at the Bucks County prison was diagnosed with COVID-19.
Dr. David Damsker, the county health director, confirmed the news to LevittownNow.com. He said no inmates had been diagnosed but several had been tested in recent weeks with no positive results.
Damsker said the county was unable to comment further on the employee who tested positive.
The Doylestown Township correctional complex has several facilities that holds men and women.
While rumors of COVID-19 cases in the correctional facility have swirled, Damkser said no inmates were known to have the illness, but the flu had sickened some inmates. The flu cases were confirmed with testing.
Flu cases in prisons are often taken seriously because the confined space can lead to a rapid spread among inmates and staff.
LevittownNow.com spoke with several families of inmates and correctional staff who have voiced concerns that COVID-19 would impact the prison at some point due to close quarters. One source who works at the facility said they worried that a co-worker or new inmate could unknowingly bring COVID-19 into the facility.
A family member of an inmate, who suffers health issues, raised alarm that the facility was a ticking time bomb for compromised people.
Those who spoke did so under the condition of anonymity out of concern for the safety of the inmate they know or to protect their job.
Chris Pirolli, director of corrections for Bucks County, began reviewing the county inmate population in early March as COVID-19 began to spread. His department made a list of those with low bails, low-level offenses, probation and parole matters, and those who had completed a substantial portion of their sentences.
After the review and actions were taken, the correctional facility population went from 711 inmates to 650 and the community corrections center went from 198 inmates to 175 as of March 25, county officials said.
Some low-level, non-violent inmates were put on GPS ankle monitors as they were released, Pirolli said.
"The District Attorney, Public Defenders, Adult Probation and Parole, Corrections, and the Judiciary are all working together to review the appropriateness of the cases for release from custody yet balancing the need to maintain public safety," the county said earlier this week.
Several inmates have submitted petitions for release, especially those with medical conditions.
"We are taking a balanced approach when considering these requests on a case by case basis. We are notifying victims to get their input before agreeing to any of them. Then it comes down to nature of the offense, temporal proximity to minimum date, and whether there are safe supervision alternatives to incarceration. Public safety is then weighed against the jail's need to have the anticipated ability to quarantine and isolate inmates for medical reasons." Bucks County District Attorney Matt Weintraub said.
Amid COVID-19, arrests have dropped in the county and arraignments for many lower-level offenses have decreased.
Pirolli said that corrections staff is monitoring the temperatures of everyone that enters the facilities. Staff with a higher-than-normal temperature will be sent home and referred to a doctor, and inmates with an elevated temperature will be medically isolated and medical staff will address the issue.
The correctional facility has also stepped up cleaning of highly-touched areas.
Family of inmates and staff that talked with this news organization said one of their main concerns was the closeness of people in the cell blocks.
"It's going to happen in there sooner or later. There's no way they can stop it and [inmates] cannot do the social distancing," one family member of an inmate said.
"When possible we practice social distancing, however we are a direct supervision facility and social distancing is not possible," Pirolli said.
Last month, the county closed visitor access to the correctional buildings as a precaution.
Since visitation has ended, inmates have been receiving two free calls per week in addition to normal calling to allow for more contact with those outside of custody.
At state correctional institutions, precautions have been taken and an all-inmate quarantine has been enacted.
So far, one case of COVID-19 has been confirmed in the state system. The case is an inmate at State Correctional Institution Phoenix in Montgomery County.
The state is sending new inmates to a quarantine site at a previously-closed facility as a precaution. The state has also been working to reduce the inmate population.