When the Bucks County Intermediate Unit unveiled its mobile fabrication laboratory last year, no one expected it to be making personal protective equipment amid a global pandemic.
Less than a year later, the 3D printers on the Mobile Fab Lab, which serves all the county's school districts, are being used to fabricate face shields from medical professionals and emergency responders during the COVID-19 pandemic.
With schools closed and the Mobile Fab Lab sidelined, Dr. Lindsey Sides, the intermediate unit supervisor of STEAM (Science, Technology, Engineering, Art, Math) Education, heard from connections that 3D printers could be used to make much-needed equipment.
Sides ended up searching and attempting to make contact with experts. Before long, she received an email back from Amy Kuceyeski, an associate professor of mathematics and radiology at Cornell University in Ithaca, New York.
Kuceyeski mobilized a team of people at Cornell University to make face shields from 3D printers. The team was able to perfect an easy process for fabrication and shared it with Sides.
In addition, Sides was able to talk to the team behind a similar Fab Lab in New Orleans. That team was working to make personal protective equipment and shared their plans.
With specifications and plans in hand, Sides worked with Megan Boletta, the intermediate unit Fab Lab program coordinator, and ordered materials. The team then made prototypes, formulated documentation, and took their face shields to the Bucks County Emergency Operations Center in Ivyland Borough on Friday.
County officials gave the design a thumbs up.
"We are so excited and gratified to be able to use this equipment to help protect and support those on the front lines against this COVID-19 epidemic," Sides said. "In the spirit of 'sharing it forward' we would also be happy to give our design instructions to anyone else who may have this equipment and want to help produce these as well."
The Fab Lab's seven 3D printers and laser cutter will be used to produce more than 200 face shields per week. The equipment produced is destined for distribution throughout the county.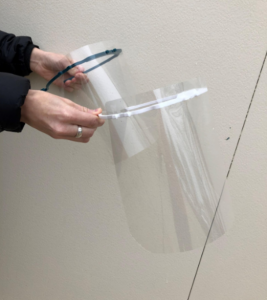 "Being able to produce these masks, and provide them free of charge, is an honor," said Bucks County Intermediate Unit executive director Dr. Mark Hoffman. "We are extremely proud that our STEAM education team has taken this opportunity to find a way to support the fight against COVID-19 by helping to keep medical personnel and first responders safe."
The intermediate unit is making the face mask and/or head piece designs available for those with 3D printers or 3D printers and laser cutters. Anyone interested can contact Sides at STEAM@BucksIU.org or 215-348-2940 ext. 1460.