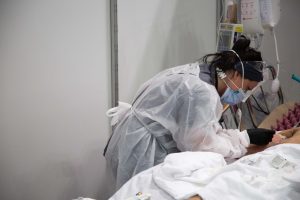 A new fundraising effort is looking to connect restaurant meals with front line workers.
Fuel the Fight Bucks County has sprung up to raise funds that will pay area restaurants to make meals that will be delivered to essential workers during COVID-19. The local campaign has raised about $2,000 in its first week and pumped money into several local businesses.
Dani Tuller, one of the local organizers, said the Bucks County effort began after Fuel the Fight started in Philadelphia and began spreading to other parts of the country.
The local effort was organized by Tuller, a Newtown MBA student who returned home from studies at Trinity College in Dublin, Ireland; Mike Mirande, a doctor of pharmacy student from Newtown; New Hope resident Tessa Hoyer, who works in the pharmacy and medical training field; and Christopher Whitman, a New Hope resident who works at a medical device company.
The two couples – Tuller and Mirande and Hoyer and Whitman – founded the local effort to support the local restaurants that are financially suffering during the pandemic and support those who are out working during it.
"It's just the four of us trying, but everybody so far has been very supportive," she explained.
With the funds donated already, the group has fed health care workers, given restaurants much-needed business, and has deliveries slated for Lower Bucks Hospital in Bristol Township this coming week.
Fuel the Fight Bucks County has placed orders from Solstice in Newtown Township, Luca's Pizza in Bensalem, and the The Pines Tavern in Bristol Borough.
With some local hospitals being overwhelmed with donations of food, Fuel the Fight Bucks County is looking to support other essential workers like those at grocery stores and pharmacists, Tuller said.
Donations can be made via GoFundMe or Venmo at @FTFbuckscounty.
Fuel the Fight Bucks County is looking to partner with other initiatives with similar goals. The organization can be reached at fuelthefightbuckscounty@gmail.com.
"The more people we reach, the more of an impact we can have," Tuller said.