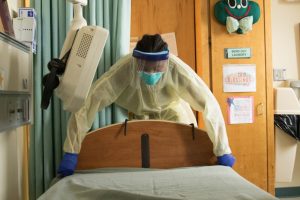 In recent weeks, retirement communities and long-term care centers in Bucks County have become ground zero for COVID-19.
As community spread has dropped, cases related to communal living centers and, as expected, front line health care workers have grown.
"We have definitely seen a shift in the cases we're seeing from community spread to congregative care facilities and their staff," said Bucks County Health Department Director Dr. David Damsker.
On some days two-thirds of the new COVID-19 cases come from those type of facilities.
The known first case of a resident and worker becoming sick with COVID-19 both came in the final week of March, Damsker said.
Close-living facilities make social distancing harder and retirement and long-term care facilities employ staff that come in and out of the facilities, potentially bringing or spreading COVID-19. In addition, some residents at those facilities come and go from hospitals and medical facilities regularly, increasing chances of infection, according to residents and staff of those facilities.
Among the older population, many are already at risk of serious COVID-19 due to serious underlying health conditions.
"Once it's in these facilities, it's difficult to stop," Damsker said, adding public health officials have been working with the facilities to stop the spread.
Nearly all of Bucks County's COVID-19 deaths have been of older residents, many with underlying health issues. A significant portion of those older residents that have died lived in those type of facilities.
At least 50 of the county's 85 licensed long-term care centers have reported at least one COVID-19 case, county officials said.
In some cases, facilities have increased testing, including mass testing, and that has led to a jump in the number of reported COVID-19 cases.
State data from Saturday afternoon showed 482 cases among Bucks County's nursing home and personal care centers, 85 cases among employees, and 89 deaths.
According to state data on Saturday, 20 percent of Pennsylvanians in the hospital with COVID-19 have been 65 to over 80.
"These are the most fragile patients we could have in our society," Damsker said.
Bucks County and state officials have declined to release the names of the centers with cases to the public. However, state Secretary of Health Dr. Rachel Levine said last week that her agency would be evaluating whether that data would be released.
County officials previously said it was each facility's discretion on whether they make cases public.
Several facilities, which were contacted by this news organization, released statements that they are following state and federal regulations relating to COVID-19 and working to keep residents healthy.
AARP Pennsylvania has called for the state to release data on retirement and long-term care facilitates.
"We know that older adults and those with underlying health conditions are more vulnerable to coronavirus and more likely to die from this disease," said Bill Johnston-Walsh, the Pennsylvania state director for AARP. "State officials, nursing home operators, and family caregivers must all work together during this crisis to ensure residents remain healthy and connected with their families."
Early last week week, federal officials required nursing homes to tell residents and their representatives if there were confirmed COVID-19 cases in the centers within 12 hours of learning of them. If three or more residents and staff come down with respiratory symptoms within three days, a notification is expected to be made.
"Nursing homes have been ground zero for COVID-19. Today's action supports CMS' longstanding commitment to providing transparent and timely information to residents and their families," said Centers for Medicare and Medicaid Services Administrator Seema Verma.
In Bucks County, every facility that has a staff member or resident with COVID-19 has received regular phone calls asking for updates and offering help from local health officials. In the most serious cases, health department or emergency management staff might go out to a facility if needed, Damsker said.
"We want to make sure the residents are protected and the staff is protected. We have provided them with lots of personal protective equipment," Bucks County Emergency Management Agency Director Scott Forster said.
Forster and Damsker said the county has provided guidance on isolating ill patients to keep residents and staff healthy.
Damsker said staff working to recover from COVID-19 could work exclusively in wings devoted to virus patients because there would be no risk of making anyone sick, but that would only happen if the situation was absolutely needed.
The next few weeks will be key in telling whether the number of cases and deaths of long-term care and retirement community residents has peaked.
"The only possible silver lining to any of this is that by the time we start to re-open, we will have a large population of health care workers and older residents in long-term care who are immune to the virus," Damsker said. "So when we do have resurgences at some point – and we will – these congregate living facilities will not be as hard-hit as they are now."