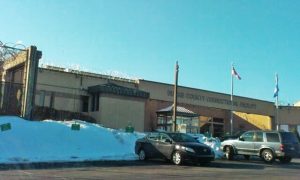 On Tuesday, a 34-year-old Bensalem man came before a Bucks County judge requesting an early release from the correctional facility in Doylestown Township.
His bald head glistened with sweat as a surgical mask covered his face while he spoke before the judge through a video conferencing system.
The man, who is in prison on aggravated assault and a drug-related case out of Bensalem, told the judge he has tested positive for COVID-19 after weeks of being ill while in custody.
"I've been coughing up fire" since March 3, the inmate said to the judge.
The inmate with a record of criminal actions going back to childhood reported that he had been having "bad dizzy spells, constant headaches, and body aches."
"I'm just not feeling good at all. I don't really know what's wrong with me and they don't know what's wrong with me," the visibly ill man said while asking the judge for release.
In the end, the judge did not let the man, who has also been receiving mental health treatment while in custody, out on house arrest, parole, or temporary release.
The inmate's story is similar to others inside the county-run facility that has seen dozens of COVID-19 cases in recent weeks.
LevittownNow.com has spoken with correctional officers, inmates who were recently released, and the families of those still in county custody.
All have confirmed efforts have been taken by the correctional facility to attempt to stop the spread of the coronavirus, but they acknowledged challenges remain in a system where close contact is almost impossible to avoid.
As of Thursday afternoon, Larry King, the county spokesman, confirmed that 53 inmates and 22 staff members have tested positive for COVID-19. A total of four people's test results remained pending.
In the county prison system, COVID-19 cases have grown since the first ones were reported among officers in early April.
"I was in there and if I didn't get out, I'd have COVID. It's like a fish bowl in there. How do you stay feet apart in a prison?" a Lower Bucks County inmate who was released amid the pandemic said on the condition his name would not be published.
The inmate stated that while the county was testing some in custody and keeping new inmates away from the general population for a period of time, not every prisoner who showed symptoms was being tested. He also said guards bringing the virus inside the walls was a major concern while he was locked up.
Last month as COVID-19 cases began to spring up in the correctional facility, the center also was dealing with an outbreak of several flu cases, which can quickly spread in prison.
Before COVID-19 cases were confirmed in the correctional facility, officials had implemented increased cleaning, closed visitor access, and began releasing some nonviolent inmates.
According to data from the county, the number of inmates at the at the correctional facility went from 711 in early March to 477 and 198 to 94 at the community corrections centers as of this week.
In addition, to control the spread of the virus, the county began screening staff for fevers, and implemented a modified lockdown, including a medical isolation block.
The Centers for Disease Control and Prevention guidance for prisons pushes the importance of social distancing, wearing masks, and hand sanitizer.
"When possible we practice social distancing, however we are a direct supervision facility and social distancing is not possible," Chris Pirolli, director of corrections for Bucks County, said in a story published last month.
Across the nation and in the state prison system, COVID-19 cases have been reported in correctional institutions. While Bucks County hasn't seen any deaths of correctional facility inmates and staff, centers across the state have seen them.
In the state prison system, a total of 131 employees and 145 inmates have COVID-19. So far, 3 inmates have died.