UPDATED: 6:23 p.m., Friday: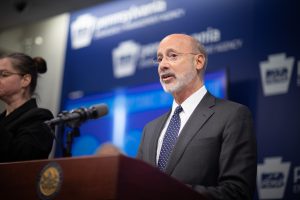 On Friday afternoon, Gov. Tom Wolf laid out the plan to partly ease restrictions across Bucks County as COVID-19 cases drop.
The governor announced that Berks, Bucks, Chester, Delaware, Lackawanna, Lancaster, Lehigh, Northampton, Montgomery, and Philadelphia counties will move from the current "red" phase to "yellow" by Friday, June 5.
As of this Friday, Pennsylvania had 49 of 67 counties in the yellow phase.
Wolf announced that Bradford, Cameron, Clarion, Clearfield, Crawford, Elk, Forest, Jefferson, Lawrence, McKean, Montour, Potter, Snyder, Sullivan, Tioga, Venango, and Warren counties will move to the least restrictive "green" phase next Friday.
At the end Thursday, June 4, Wolf's stay-at-home order will expire and allow the hard-hit Philadelphia region to see restrictions eased.
"We know not only that we succeeded in slowing case growth, but that our actions, our collective decisions to stay at home and avoid social contact – we know that saved lives," Wolf said during his afternoon news conference. "My stay-at-home order did exactly what it was intended to do: It saved lives and it bought us valuable time."
The governor said the state has seen a drop in COVID-19 patients in the hospital and new case rates shrinking.
State Health Secretary Dr. Rachel Levine told reporters that cases have been dropping and mitigation efforts have worked, but caustion still needs to be used as restrictions ease.
"Pennsylvanians have shown that they have the resolve to win the battle against COVID-19," Levine said.
Since the pandemic began through early Friday morning, Pennsylvania has seen 66,258 confirmed COVID-19 cases and 4,984 deaths. Bucks County has confirmed 4,536 cases, 411 deaths, and 1,374 recovered patients.
Wolf's announcement that Bucks County would be moving to the yellow phase comes as he faced growing pressure from Democratic and Republican lawmakers, the Bucks County Commissioners, business owners, and the public.
Sources with knowledge of the conversations have said the county worked hard to make the case to the Wolf administration that Bucks County was ready to reopen.
Earlier in the week, Democratic and Republican state lawmakers called for curbside retail in the county. Republicans took things a step further Wednesday bills introduced by State Rep. Frank Farry, of Langhorne Borough, and State Sen. Tommy Tomlinson, of Bensalem, proposed the state allow reopening decisions to fall in the laps of county commissioners.
Behind the scenes, state lawmakers and their staffs said that the desire move to the county to yellow was growing as Bucks County's case count dropped and community spread decreased.
"Based on our extensive data collection, I believe that Bucks County is ready to move to the yellow phase," said Bucks County Health Director Dr. David Damsker said in a Wednesday statement.
Both Democratic and Republican elected officials said they urged the governor's office to review Bucks County's goal to reopen, pointing to decreasing COVID-19 cases and aggressive contact tracing measures.
The state has said they would use an average of less than 50 confirmed cases in a county per 100,000 residents over 14 days, capacity at local hospitals, population density, access to COVID-19 testing, and contract tracing efforts as they determined which counties would move from red to yellow.
Bucks County and surrounding counties have not yet met the first data point in recent weeks but will still move to yellow.
Wolf said there were even more factors, like experts, that officials looked at when deciding what counties reopening.
"We continue to increase testing every day and are continuing to build our contact tracing capacity, as well. We are able to do these things, to be successful, to reopen in this manner because of the Pennsylvanians who have made tremendous sacrifices since the virus emerged in our state," Wolf said Friday.
State Rep. Farry, a Republican from Langhorne, said he stood with the reasoning the commissioners and Damsker used to push for Bucks County's reopening. He said residents and businesses being responsible is key to reopening and keeping cases low while restarting the local economy.
Farry said he will continue to push forward his bill allowing counties to have more of a say in reopening decisions.
"I've shared with Gov. Wolf the stories of my hardest-hit constituents. A business owner myself, I told him how far the bottom line has dropped from under us," said Democratic State Rep. Tina Davis, of Bristol Township. "I'm proud of my fellow Bucks County residents for their efforts during this challenging period and am ready to help them get working again."
"I explained to the governor that the people of Bucks County's sacrifices under the stay-at-home order have paid off, and it's now time to focus on bringing back Bucks County to good economic health by helping our small businesses get back on their feet," said State Rep. John Galloway, a Democrat from Falls Township.
In his remarks, Wolf thanked residents for their patience and said that made a difference in saving lives.
Original Story: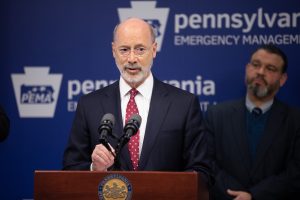 At 12:01 a.m. on Friday, June 5, Bucks County will move from the "red" phase of the state's reopening plan to the "yellow" phase, according to multiple sources around the Philadelphia region.
The move will allow many businesses that are considered nonessential to reopen some functions and get the local economy turning again.
The plan to reopen the county comes as pressure on the governor from politicians, business owners, and residents began to mount.
Gov. Tom Wolf is expected to announce the news at a 4 p.m. Friday news conference. He will also announced the entire Philadelphia region will move from red to yellow, sources told this news organization.
Wolf's office did not respond to a request for comment.
"We're making decisions based on the best information we have, and making the best decisions we can, based on the best models that are always changing and moving," Wolf said in a call with reporters on Thursday.
As of Friday, 49 of Pennsylvania's 67 counties were in the yellow phase. Red phase counties were centered in the Philadelphia region and around Harrisburg.
No counties had moved to the "green" phase as of Friday, but Wolf was expected to announce some would be moving to the green phase in the coming weeks.
The state has used information like an average of less than 50 confirmed cases in a county per 100,000 residents over 14 days, capacity at local hospitals, population density, access to COVID-19 testing, and contract tracing efforts as state officials decided which counties will move from red to yellow. Bucks County did not meet the first data point in recent weeks.
More details to follow.