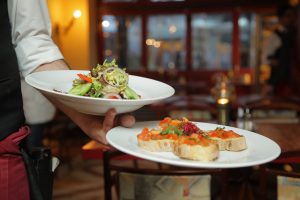 Restaurants will be able to offer outdoor dining once Bucks County enters the "yellow" phase of the state's reopening plan next week, Gov. Tom Wolf's office announced late Wednesday afternoon.
Starting next Friday, restaurants and retail food service businesses will be permitted to begin to offer service in outdoor seating areas in yellow phase counties as long as they "strictly" follow a set of requirements set out by the state:
Indoor areas, including bar areas, of restaurants and retail food service businesses must be closed to customers except for through-traffic. Non-bar seating in outdoor areas (i.e., tables or counter seats that do not line up to a bar or food service area) may be used for customer seating.
Customers being served must be seated at a table.
Restaurants in yellow phase counties will not be able to offer:
Self-service food or drink options, such as buffets, salad bars, condiments, and drink stations
Condiments on tables; these must be dispensed by employees upon the request of a customer.
Reusable menus.
Refilling food and beverage containers or allowing implements brought in by customers.
The governor's office said counties in the "green" phase will be allowed to offer indoor and outdoor seating as long as they follow the guidance, which includes physical distancing and maximum occupancy limits.
Wolf's office said staff and operators of eateries can find guidance for running their business amid the pandemic on the state website. The document outlines mask-wearing, table-spacing, occupancy limits, sanitization, and implementation of a COVID-19 prevention plan.
The Pennsylvania Restaurant and Lodging Association, which worked with the governor's office on the guidelines, celebrated effort to "safely reopening PA restaurants."
"As the guidelines were developed, the Governor's office was receptive to our input and industry expertise to create protocols that both protect public and employee safety and allow restaurants to ease back into operations. States around the country have begun allowing restaurants to permit outdoor dining, and as one of the largest industries in Pennsylvania, we are thrilled to welcome these businesses back," association president and CEO John Longstreet said.
Since mid-May, all eateries in Bucks County were ordered closed aside from take-out, curbside, and delivery sales.