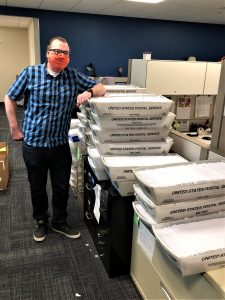 Nearly 99,000 requests for mail-in or absentee ballots have been received in Bucks County.
The deadline for the return of the ballots are primary election day (Tuesday, June 2) by 8 p.m.
For those worried their ballots won't make it to the Bucks County Board of Election office via mail by the deadline, three ballot collection boxes will be located at county properties. The sites will be open for ballots from 7 a.m. to 7 p.m. this Saturday, Sunday, and Monday.
The boxes will be placed at the Lower Bucks Government Services Center at 7321 New Falls Road in Bristol Township's Levittown section, the Bucks County Administration Building at 55 East Court Street in Doylestown Borough, and Upper Bucks Government Services Center at 261 California Road in Richland Township's Quakertown section.
The mail-slotted boxes will be padlocked shut and guarded at all times. Bucks County Sheriff's Office deputies will guard the boxes in lower and upper Bucks County. The box at the Administration Building will be watched over by security officers.
State law only allows voters to deposit their own ballots and not those of family members, friends, or anyone else.
County election officials were already expecting an uptick in mail-in voting after a change in state law made it possible in 2020. However, the COVID-19 pandemic has led to a large spike in mail-in ballot requests and a flood of returned documents.
The flood of requests and ballots have poured into the Board of Elections, causing staff to work extended hours and into weekends and holidays to process the influx, county officials said.
With much stricter rules around absentee ballots, only about 6,000 were requested in the last presidential primary election in 2016, according to county statistics.
Governments, elected officials, and candidates of both parties have been providing voters with information on mail-in voting.
While health concerns are driving the mail-in ballot selection, the county still will have in-person voting at locations across the area. Masks will be worn by staff and voters.
County officials said poll workers for next Tuesday are still needed.
Due to COVID-19 and health concerns, a number of poll workers have declined to work at the roughly 200 sites.
In early May, the Board of Elections voted to increase pay for judges of election from $135 to $200, other elections officials from $105 to $195, and from $105 to $195 for constables. The pay increase will only be in effect for the primary election.
Residents interested in working the election can call call 215-348-6154 or email elections@buckscounty.org.
Poll workers will be provided with personal protective equipment.