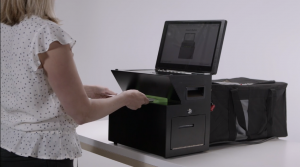 Some voters in Bucks County reported their completed ballots during the primary election on Tuesday had trouble being scanned in the recording device.
With the new Clear Ballot voting system, paper ballots are completed by a voter with a pen and then fed through a scanner to be recorded. The paper copies are kept in a secured container and retained for safekeeping.
The problem appeared to happen with some Democratic and Republican ballots as they were too big for the scanner to accept them for scanning, multiple voters and election officials told this news organization.
Bucks County officials confirmed the problem was happening with some ballots but not all.
Some paper ballots were too large to go through the scanner, an apparent error by the vendor that printed the documents, county spokesperson Larry King said.
In some cases, a paper slicer could be used to shrink the ballot to fit. At some polling places, the ballots that did not scan were secured in an emergency ballot case for tabulation at the Board of Election office in Doylestown Borough, King said.
Larger, high-speed scanners being used at the Board of Election office are able to process ballots of varying size and will be used.
Officials have said in the weeks leading up to the election that tests of the ballots and scanning system were successful. In the March special election in Bensalem, no widespread problems with the size of the ballots were reported.
King said the issue with the ballots is being looked into and all votes will be counted.
The printer used for the primary election ballots was certified by voting machine system maker Clear Ballot.
As on 2 p.m., polling places in the Levittown area were reporting light turnout and no other major issues.