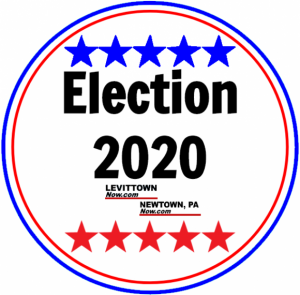 In a world without coronavirus, the lead up to Tuesday's primary election would have been jammed pack with candidate events and door knocking.
But that's not the world we live in anymore.
As the pandemic sickened thousands of people in the First Congressional District, Democratic and Republican candidates did their best to kept their campaigns moving forward, including speaking with voters and fundraising virtually.
Incumbent Congressman Brian Fitzpatrick, a Republican, ceased his campaign for several weeks after the pandemic began to hit the area and directed efforts toward helping those impacted by the virus and the economic fallout.
Going into the election, Fitzpatrick had the incumbant advantage. He already holds the office he is trying to keep and ended March with close to $1.7 million in his campaign coffers, a total much higher than any other candidate in the district.
Christina Finello, a Democrat, she said the pandemic caused her campaign to double down on their message of improving economics and health care for locals.
"It's very important that we have to physically distance, but we don't want to lose contact with the community," she said, noting many traditionally in-person events went online.
From online fundraisers to Zoom events, Finello said the campaign worked to keep up engagement virtually as tried-and-true, door-to-door campaigning wasn't an option.
Democrat Skylar Hurwitz, who is the youngest candidate, already was extremely active online and shifted all his energy there once COVID-19 mitigation measures began shutting things down.
From online town halls to volunteer phone banking, Hurwitz felt confident of his campaign's efforts.
"The town halls have been a great way to reach people. I'm not coming into these with a perfect script and talking points," he said. "People like the authenticity."
In lieu of the standard campaign events, Republican Andrew Meehan harnessed his energy for the race to connect with potential voters all over the district.
The campaign undertook numerous online events and conference calls over the phone.
In the weeks leading up to the election, Meehan said it has become a common occurrence to see him driving his 2013 Subaru Impreza, complete with a bullhorn mounted on top and custom decals advertising his campaign. Many people he sees smile, chuckle, and have socially distant conversations with him when they see his campaign mobile, the candidate explained.
Finello said she really enjoyed the in-person events and connecting with voters. Even before jumping in the race, Finello said she always enjoyed get out to community.
For Hurwitz, a series of planned in-person concert rallies had to be stopped in the planning phases. But the campaign was able to repurpose some of those plans into a virtual campaign celebration that will be streamed on Facebook Tuesday evening.
Kate Constantini, Fitzpatrick's campaign spokesperson, said people are such a big part of the election process and virtual events made things much different.
Meehan, who unabashedly is a major supporter of Republican President Donald Trump, had gone from planning boisterous town halls to connecting with potential constituents through Facebook Live. As the weeks passed, the Meehan campaign started holding small gatherings outside the Trump Store, which is not affiliated with the president's reelection campaign, in Bensalem.
On primary election night, the campaigns are forgoing their traditional bashes.
Only time will tell how campaigning moving forward will be in the age of COVID-19.
Editor's Note: Publisher/Editor Tom Sofield's father, Chris, is Meehan's campaign manager. Reporter Erich Martin, who co-wrote this story, interviewed the Meehan campaign.