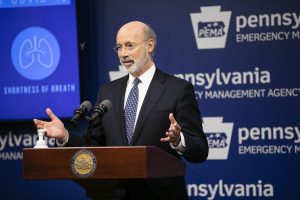 Gov. Tom Wolf confirmed NewtownPANow.com's scoop reported last week that Bucks County will move to the "green" phase of his reopening plan starting Friday, June 26.
The governor confirmed the news Friday afternoon, a week after local lawmakers first started to announce the news. As of last week, the governor's office told this news organization a decision had not been made, while State Rep. John Galloway and State Sen. Steve Santarsiero said the governor's office had told them the June 26 date. Additional sources later confirmed the two lawmaker's statements.
Berks, Bucks, Delaware, Erie, Lancaster, Lackawanna, Lehigh, Montgomery, Northampton, Philadelphia and Susquehanna counties will also move to the least restrictive phase of the state's COVID-19 mitigation measure on June 26. Philadelphia will have some additional restrictions in place until July 3.
"When these 12 counties move on June 26, we will have nearly every county in green," Wolf said. "It's a testament to the many residents and businesses that have sacrificed over the past three months to stay home and adhere to the guidance the state has provided to protect lives and livelihoods. As we begin to reopen, I urge everyone to stay alert and continue to follow social distancing to maintain the momentum of mitigation we have in place."
Here's how the state defines the green phase of the reopening plan:
Work & Congregate Setting Restrictions
Continued Telework Strongly EncouragedBusinesses with In-Person Operations Must Follow Updated Business and Building Safety RequirementsAll Businesses Operating at 50% Occupancy in the Yellow Phase May Increase to 75% OccupancyChild Care May Open Complying with GuidanceCongregate Care Restrictions in PlacePrison and Hospital Restrictions Determined by Individual FacilitiesSchools Subject to CDC and Commonwealth Guidance
Social Restrictions
Large Gatherings of More Than 250 ProhibitedMasks Are Required When Entering a BusinessRestaurants and Bars Open at 50% OccupancyPersonal Care Services (including hair salons and barbershops) Open at 50% Occupancy and by Appointment OnlyIndoor Recreation, Health and Wellness Facilities, and Personal Care Services (such as gyms and spas) Open at 50% Occupancy with Appointments Strongly EncouragedAll Entertainment (such as casinos, theaters, and shopping malls) Open at 50% OccupancyConstruction Activity May Return to Full Capacity with Continued Implementation of Protocols
All businesses must follow CDC and DOH guidance for social distancing and cleaning
Monitor public health indicators, adjust orders and restrictions as necessary
Bucks County officials have argued that area is prepared to move to the green phase, citing a steady and sustained drop in cases, thorough contact tracing, and ability to offer tests to track outbreaks. Health Department Director Dr. David Damsker said last week and this week that the county was prepared to move to green.
Democratic and Republican lawmakers have pressured Wolf's administration to move Bucks County to the green phase by either Friday, June 19 or June 26. They also asked the governor to ease certain restrictions.
While the governor's plan eases restrictions even more than the current "yellow" phase, some businesses have disregarded the reopening schedule and overtly and quietly began opening, many with precautions.
On Wednesday, Wolf heralded the state's efforts to slow the spread of COVID-19 and cited federal data that showed Pennsylvania is one three states that has had a downward trajectory of COVID-19 cases for more than 42 days. The other two states were Montana and Hawaii.
"We know our decline in cases is because of our choices because more than half of states are experiencing an increase in COVID-19 cases as reopening begins," Wolf said. "Many of these states are experiencing significant case increases tied to reopening too soon or too much. Pennsylvania is not. We have remained focused on balancing economic interests with public health."
The state's handling of COVID-19 at long-term care centers has drawn scrutiny. In addition, while the governor has received some national praise for his administration's handling of the pandemic, a group of Republican lawmakers have issued a resolution to impeach the two-term governor.