An ongoing fight to put a Wawa with fuel dispensers just off the Newtown Bypass in Newtown Township goes on.
The latest battle in the fight started to unfold Monday night when the township zoning hearing board held the first of what could be several hearings on a validity challenge filed by developer Provco Pinegood Newtown LLC to certain provisions of the joint municipal zoning ordinance (JMZO) that governs zoning for Newtown, Upper Makefield and Wrightstown townships.
Provco is proposing a 5,585-square foot Wawa with eight fuel dispensers for a 4.95-acre parcel at the Bypass and Upper Silver Lake Road. The validity challenge centers mostly around provisions of the JMZO that prohibit eight dispensers on a property less than five acres and doesn't allow the kind of electronic sign Wawa is proposing, considered an "electronic messaging center" by the ordinance.
A convenience store/fuel facility use is allowed in the office research zoning district where the proposed Wawa is to be located. The Newtown Township ZHB previously denied variances regarding the number of dispensers and the sign. In addition to the validity challenge that started Monday night, the variances denial and the township supervisors' denial of land development approval for the project are both under appeal in Bucks County Court, said John VanLuvanee, the local attorney representing Provco on the project.
At Monday night's hearing, VanLuvanee called the provisions of the JMZO being challenged "arbitrary, unreasonable and discriminatory."
"Is there a reasonable zoning purpose to limiting the number of dispensers?" he asked at one point during the hearing. "This is about whether a municipality has the right arbitrarily to interfere with business decisions."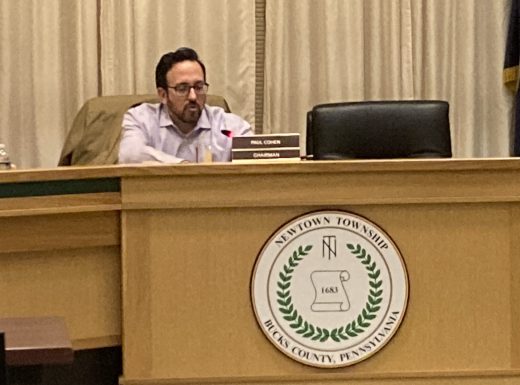 Monday night's hearing consisted almost entirely of testimony by Civil Engineer Jason Korczak of Bohler Engineering, who is helping Provco on the project, and Wawa Project Engineer Michael Redel. They answered dozens of questions from VanLuvanee on direct examination and from Newtown Township Solicitor David Sander and Peter Nelson, an attorney representing Upper Makefield, on cross examination.
Scheduled for two hours until 9 p.m., the hearing was recessed less than 10 minutes short of that when VanLuvanee decided there was no point calling the third of his four witnesses with so little time left. It is scheduled to continue at 7 p.m. March 6 in the meeting room at the Newtown Township administrative building, 100 Municipal Drive, just off Route 413.
In testimony Monday night, both Korczak and Redel said several times there was no physical or engineering reason why the property could not readily accommodate eight fuel dispensers, instead of the six or fewer allowed under the JMZO. There would be no adverse impact on stormwater management or other elements at the site, Redel said.
He added one of the reasons for proposing the eight dispensers is that this Wawa would be farther away from other Bucks County Wawas than many are from each other, and that eight dispensers would allow more customers to pump fuel at the same time and thus reduce stacking. Redel said he has been involved with the development of many Wawas that have eight dispensers on sites as small as 2.5 acres.
"I don't recall working with an ordinance that limited the number of dispensers," Redel said.
He testified it's important for Wawa to have a prominent sign at this site so that people unfamiliar with the area and traveling along the Bypass can recognize it as a Wawa and decide whether or not to stop. A non-electronic sign would force Wawa employees to frequently have to manually change elements in a sign, like fuel prices, something that could be dangerous, especially in inclement weather, Redel added.
The many questions from Sander and Nelson in cross examination seemed designed to establish that Wawa could efficiently run a convenience store/fueling facility at the site without the need for variances or challenging provisions of the JMZO.
While the Wawa would front on the Newtown Bypass, there would be no direct access from that road but only from Upper Silver Lake Road.
Public comment will be allowed near the end of the last hearing on the validity challenge, Newtown Township Zoning Hearing Board Solicitor Michael Clarke explained.