Correction: A previous version of this story stated District Attorney Matt Weintraub will step down in the coming months. He will remain in office and step down if he runs the judge seat.
Bucks County District Attorney Matt Weintraub intends to run for judge of the Court of Common Pleas.
Weintraub's office confirmed the news in a statement to NewtownPANow.com.
Weintraub intends to run in the 2023 judge race. If he runs, he will have to resign if he takes office in January 2024.
Bucks County First Assistant District Attorney Jennifer Schorn will take the job as the county's top law enforcement official if Weintraub, a Republican, wins and then will have to resign to become a judge. She will serve as acting district attorney and have to be confirmed by the sitting county judges to be appointed to fill out the rest of Weintraub's term.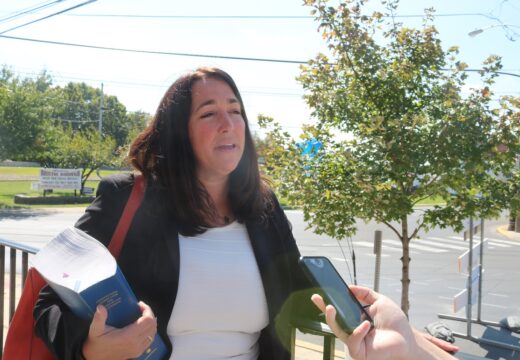 Schorn is expected to run for district attorney in the next election for that office in 2025.
Below is Weintraub's full statement he issued Friday morning:
"It's my intention to make my First Assistant Jen Schorn succeed me as Bucks County DA. By running for judge in the middle of my term, she gets to be DA for two full years before she then would stand for election herself. It's like a live audition for the job. I had this advantage to prove myself as DA.
"This way, the county gets a fantastic District Attorney, while I continue to serve the public as a judge. It's a win-win.
"I predict that with her leadership and dedication to our mission, Jen will far exceed me as Bucks County District Attorney, and it's not fair for me to stand in her way any longer. She's ready, and so am I."
It has rumored for at least a year that Weintraub was interested in running for judge, but the prosecutor remained tightlipped on the move until Friday.
Weintraub told staff this week he planned to run for judge and Schorn will fill his seat if he wins.
Schorn has served as the district attorney's office top non-elected leader since 2021. Schorn has been with the office since 1999. She has led multiple types of prosecutions and is a recognizable face among law enforcement.
In the judge race, Weintraub will benefit from high name recognition and a record of overseeing several high-profile cases that have happened since he was first appointed in 2016 to fill the seat of District Attorney Dave Heckler, who retired. Weintraub easily won the seat in 2017 and 2021.
Weintraub's time in office has seen him face numerous major cases, including the Grace Packer murder and the Cosmo DiNardo and Sean Kratz murder cases. His time in office has faced few scandals, but his previous first in charge resigned after getting caught delivering for DoorDash while working on the taxpayers dime in 2021.
Weintraub, a Central Bucks County resident, was born and raised in Bucks County. He grew up in Upper Southampton Township and worked for 13.5 years in the district attorney's office over two stints before taking the top job. He first interned in the district attorney's office in 1992 before being hired full-time in 1993.