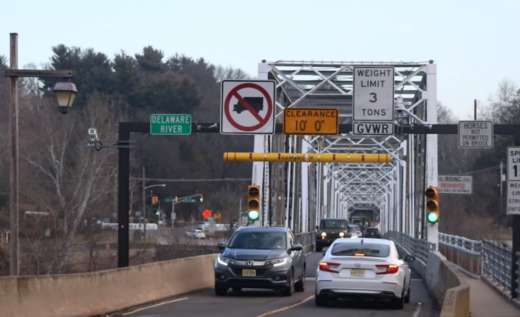 UPDATED: 9:34 a.m., Friday:

Upper Makefield Township police reported the bridge has reopened for vehicle, but the pedestrian crossing remained closed as of mid-morning Friday.
Original Story:

The Washington Crossing Toll-Supported Bridge connecting Upper Makefield Township to Hopewell Township, New Jersey was closed Friday morning after a tractor-trailer attempted to cross the span.
Upper Makefield Township police reported a truck operated by Amazon drove past the warning signs and stopped when they struck the final warning signs and entryway to the bridge with a 10-foot height restriction.
The incident happened around 1 a.m., police said.
Pennsylvania State Police, who have jurisdiction on the bridge, are investigating the crash.
"If you take the bridge on your way to work this morning, you may want to plan an alternate route. That is all for now and we will advise when the bridge has been reopened," Upper Makefield Township police said.
The steel grid deck bridge is owned and operated by the Delaware River Joint Toll Bridge Commission.
The span has a 15 mph speed limit, three-ton weight limit, and 10-foot vertical clearance. It is the commission's narrowest bridge.