Villa Joseph Marie proudly welcomes the quite accomplished author, actor, and advocate for women, Mary Lou Quinlan.
The charismatic founder and CEO of the marketing consultancy "Just Ask a Woman" graduated from Cardinal Dougherty HS in 1971, and earned a bachelor's degree in English at Saint Joseph's University, and an MBA at Fordham University.
"I'm really excited about the chance to take my mother's story to a new audience."
The VJM Performing Arts Center is hosting this New York Times bestselling book author of "the God Box" with her engaging one-act play, "the God Box: A Daughter's Story" on Thursday, May 11, 2023 at 7:00PM.
A Pre-Show Reception will be held in Maria Hall on May 11, 5:30-6:30PM.
[Combo Ticket $50 includes the Pre-Show Reception, ticket to the show, and a copy of "the God Box" hardback book / Standard Ticket $30 / Student Ticket *under 18 $20]
For more information, click here.
The play is performed by Mary Lou and co-written with director Martha Wollner of New York City's critically acclaimed LAByrinth Theater Company.
Mary Lou Finlayson Quinlan has written inspirational features for Real Simple, O, the Oprah Magazine, and a monthly career advice column for MORE. She has also appeared as a correspondent on the CBS Early Show, and as a judge on Simon Cowell's ABC-TV primetime reality series "American Inventor," among many other media appearances.
You will laugh. You will cry. You will want to call your mother. 
This devoted daughter explores both laughter and tears in her emotional rollercoaster of a poignant, heart rendering story of a loving family coping in love, in loss, and in triumph.
Those we love and lose are always connected by heartstrings into infinity.
Mary Lou's hope is to share her touching discovery of her own late mother's God Boxes filled with her private cache of notes to God, penned on scraps of paper, on behalf of family, friends and strangers, along with some of her own personal wishes, praises, and specific requests and prayers, as well as heartbreaking worries.
She explains that this had been her beloved mother's way of physically giving control to God over all the concerns that filled her prayers.
Her mother, Mary Finlayson passed away on May 29, 2006.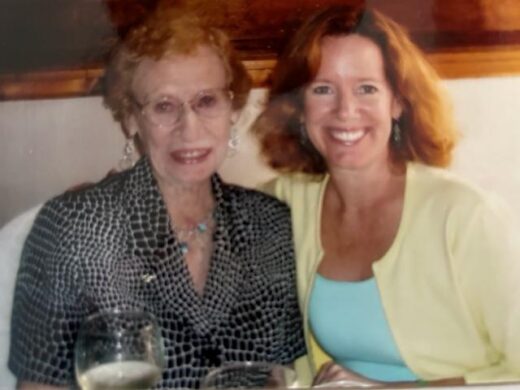 This altered her daughter's life and inspired a movement.
What a memory and a meaningful legacy to leave behind!
The author worked diligently to come to terms with the death of her parent and the secrets she discovered after her beloved mother was gone.
Her husband, Joe, a 1971 Holy Ghost Prep grad, provided her with incredible support.
Somehow Mary Lou elicits the strength to act out her profoundly sad story with complete composure and her most obvious affection. Her solo play is compelling and emotionally involving, unforgettable, so personal, and so incredibly honest.
"People often come to chat with me after the show to tell me about their own mothers."
Mary Lou faced the role of caregiver as she sat with her mother while she was in hospice.
"I was usually an upbeat person who always had to be in control. It was difficult to adjust," she said.
She had to come to grips with her journey as the daughter dealing with loss while learning to let go.
Her book was published in 2012 and her inspirational play opened in the USA in 2013. The show traveled from NYC's Off-Broadway gem, The Cherry Lane Theater, to The Kimmel Center Innovation Studio in Philadelphia, The Warehouse in Greenville, SC, and dozens of stages from Boston to Chicago, Indiana to Omaha. She proceeded to perform in Ireland and Scotland for the 2014 Edinburgh Festival Fringe.
"My grandparents were of Irish descent," she said.
Audiences from around the U.S. and the world have fallen in love with this solo performance and thousands have followed Mary Lou's journey to life's ultimate challenge: learning to let go.
Over 50,000 of her books have been sold and she has made at least 150 performances.
Her God Box Project has helped so many communities as she has helped raise nearly half a million dollars targeted for cancer, hospice, education, family, and community causes.
Mother's Day is Sunday, May 14th.

"The God Box" book is a perfect gift for every mother, every daughter, and every person, regardless of beliefs, who trusts in the permanence of love and the power of family.
There will be an opportunity to purchase the book after the show, and Mary Lou will be available for personal signings. Pre-signed books will also be available. The cost to purchase books after the show is: 1 for $15 or 2 for $25.
"A 'real' God box is a constant reminder that we are not in control and that letting go is the first step to finding comfort, hope, and relief for life's worries," Mary Lou confirmed.
It is never too late to start one of your own!
To build the God box community and promote the book, she has launched a Web site, thegodboxproject.com.
Villa Joseph Marie
1180 Holland Road
Holland, PA 18966
Recommend a "Spotlight". E-mail vjmrun@yahoo.com