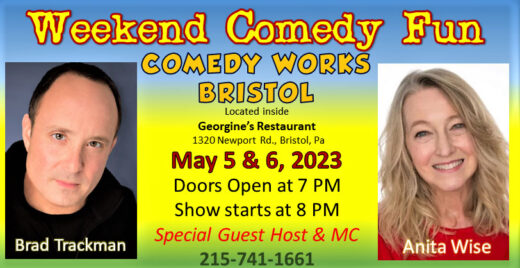 The Comedy Works Bristol (located inside Georgine's Restaurant, 1320 Newport Road in Bristol) presents Weekend Comedy Shows on Friday, May 5 and Saturday, May 6.
Both shows start at 8 PM.
The show will headline Comedian Brad Trackman and feature Comedian Anita Wise.
Brad Trackman is a national touring Comedian who has been featured for his standup Comedy on CBS's "The Late Late Show" with Craig Ferguson, "Comics Unleashed" with Byron Allen, "Star Search" with Arsenio Hall, AXS TV's "Gotham Comedy Live", MTV's "The Buried Life", "New Joke City" with Robert Klein, NBC's "Later", NBC's "Friday Night", TBN's "Huckabee" and numerous appearances on Comedy Central.
Brad recently did a Dry Bar Comedy Special "THANKS" which features his squeaky clean humor that passed the test of The Latter-Day Saints audience of Provo Utah who gave him a full standing ovation. Brad became a published author. He acquired a major book deal with Post Hill Press/ Simon & Schuster. He wrote the biography of shock jock "Anthony Cumia" who was part of the legendary radio show "Opie and Anthony". The book, entitled "Permanently Suspended", is available wherever books are sold.
Trackman has also opened for such legendary comedians like Joan Rivers, Robin Williams, Dana Carvey and toured with Weird Al Yankovic. He is also a regular in Atlantic City at the "Borgota" casino and Las Vegas at "Brad Garrett's Comedy Club" in the MGM casino.
Anita Wise will be the feature act and has a celebrated history as an American stand-up comedian and actor who has made numerous television appearances including the Tonight Show with both Johnny Carson and Jay Leno. She has also been seen in several Seinfeld episodes and numerous cable TV shows.
Also appearing will be a special guest comedian.
You never know who is going to show up to do a guest set and work out new material. The Comedy Works Bristol is the perfect place for Stand-up Comedy with over 40 years of history in the Philadelphia area. Unlike many of the Comedy Clubs in the area, we feature great Comedy with NO drink minimums, FREE Parking and tableside wait staff service.
Tickets are limited and seating is still socially distanced to keep our audience, performers and staff safe. The doors will be open at 7:15 PM with great food (small plate fare) or drinks available before or during the show at reasonable prices. (additional cost)
Tickets for this special night of Comedy can be pre-purchased ONLINE for $35 for one ticket that admits 2 people. Tickets are $20.00 for each person at the door. 215-741-1661.