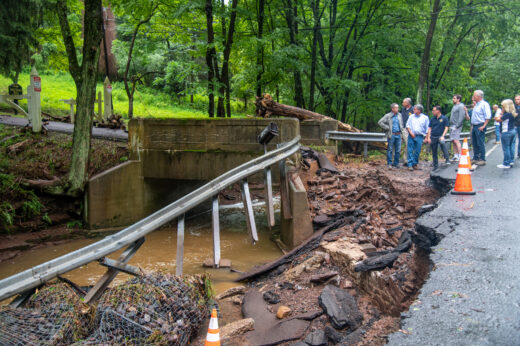 PennDOT repaired River Road and reopened it Tuesday afternoon after it suffered damage in the weekend flash flood.
PennDOT said River Road (Route 32) was repaired between Taylorsville Road and Woodside Road in Upper Makefield and Lower Makefield townships. The section of the roadway had been closed since Saturday evening.
Additional sections of River Road have been temporarily blocked to accommodate search efforts and staging of emergency vehicles.
PennDOT said Washington Crossing Road (Route 532) and Taylorsville Road will remain closed for additional cleanup and repair. 
Eric Nagy, a Bucks County government spokesperson said a bridge along Taylorsville Road was damaged in the flooding.
Other officials who have toured Washington Crossing Road and Taylorsville Road said parts of the road have been washed away and erosion damage has been sustained along sides of the roadways.
Washington Crossing Road remained closed Tuesday evening between Dolington Road and Wrightstown Road in Upper Makefield Township, and Taylorsville Road is closed between Washington Crossing Road and Woodside Road in Upper Makefield and Lower Makefield townships.
"During the closures, motorists will continue to use Taylorsville Road, Route 532 (Washington Crossing Road), Wrightsville Road, Eagle Road, Stoopville Road, Lindenhurst Road and Route 332 (Yardley Newtown Road/Afton Avenue)," according to PennDOT.
Local access will be maintained up to the closures. Police have been manning some of the closure points.
On Wednesday, PennDOT will implement a modified detour route that will direct drivers to use Washington Crossing Road, Wrightstown Road, Eagle Road, Stoopville Road, and Dolington Road.
State and municipal officials have been spotted on other area roads clearing debris in the wake of the flooding.
In Wrightstown Township, the 1000 block of Cedar Lane was damaged by the flooding, county officials said.