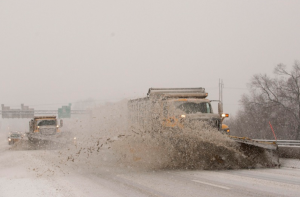 Two winter storm systems are their way to Lower Bucks County.
Forecasters from the National Weather Service said that a light snow event will happen as a low pressure system skirts the region Thursday night into Friday. The system is expected to bring snow and possibly some rain. The system could cause some problems for the Friday morning commute.
The snow totals likely won't be significant, but a more clear picture of the forecast will emerge as the storm grows closer.
Once the end-of-workweek storm is out of the area, a "significant" winter storm will make its way into the region Saturday and Sunday, forecasters said, adding its impact will be dependent on the track of the system.
"Guidance continues to show a wealth of moisture accompanying this storm, therefore where it snows the amounts could be significant and there also could be a zone of icing. The potential for heavy rain, snow, and mixed precipitation exists with this system," forecasters said.
"The extent and duration of any wintry precipitation on the back side of this system will be dependent on how much moisture is available and how quickly the cold air pushes in. That said, it does appear that snow/sleet/freezing rain accumulations of some degree are probable during some point of this event for our entire area, especially along and north of I-95," they added.
On Sunday, Arctic air is expected to move into the area and cause more problems as any precipitation that has melted could quickly freeze.