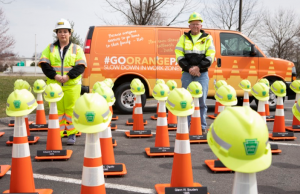 On a central Pennsylvania roadway, Flagger Force employee Jackie McVey recently had an experience she won't forget, and one that officials are hoping motorist learn a lesson from.
McVey was monitoring a work zone with a co-worker from the shoulder when the new mom was nearly struck by a car that swerved into the work area just feet from the crew.
"Had my colleague and I been just a couple steps forward we would have been struck by the car," she said. "I thought about the impact that would have had on my one-year old son and his future."
McVey isn't alone in her experience with a near miss while on the job, officials said.
Statistics revealed by Flagger Force showed that 97 percent of their workers reported seeing distracted driving such as texting and driving or looking down to turn the radio dial while in work zones.
The Pennsylvania Turnpike Commission, The Associated Pennsylvania Constructors, and Flagger Force gathered earlier this week to bring awareness to National Work Zone Awareness Week that starts on Monday, April 8.
"We have real people working in highway construction zones – people like you who want to make it home to their families at the end of the day," Pennsylvania Turnpike Commissioner John Wozniak said at an event earlier this week.
Federal and industry data from 2017 shows that 10 workers were filled in Pennsylvania work zone crashes that year. More recent data was not available as of Friday.
"Although work zones may seem like an inconvenience to your normal commute, they are necessary to keep our communities moving. When you see a work zone area, it means that your community's infrastructure is improving," said Flagger Force Executive Vice President Mike Doner, a company co-founder.
Pennsylvania Turnpike CEO Mark Compton said that a new law will allow PennDOT and his organization to use automated speed-detection technology to issue speeding violations to the registered owners of offending vehicles. He added that first violation will be a warning and the second will be a $75 fine, while all following violations will be a $150 fine.
"For the sake of our workers, we urge all motorists to obey the posted speed limit signs and be aware of the presence of workers," Wozniak said.