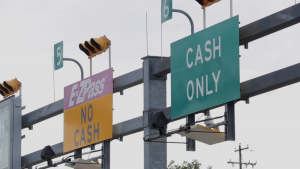 Five people have been charged by the Bucks County District Attorney's Office after they allegedly racked up thousands of dollars in unpaid Pennsylvania Turnpike tolls.
Jonathan J. Quinty, 37, of East Greenville, Montgomery County, has been accused of driving on the Turnpike without paying 542 times between September 14, 2016, and April 7. A $22,751.55 debt has been accrued, according to a criminal complaint.
Rachel A. Andershonis, 26, of Bensalem, took 311 unpaid rides between March 20, 2018, to April 23 for a total of $19,522.20, authorities said.
Robert A. Mansfield, 48, of Philadelphia, traveled on the Turnpike through Bensalem and totaled $16,716 in unpaid tolls in 484 trips from March 1, 2014, to April 28, authorities said.
Antonio R. Green Jr., 31, of Bensalem, has been accused of not paying $4,009.70 in Turnpike tolls while traveling through Bensalem.
Thomas A. Macrina, 40, of Warminster, earned a $3,517.30 during 331 unpaid Turnpike trips through Bensalem, authorities said.
The five motorists have been charged with theft of services stemming from the skipped tolls that total more than $66,000 owed to the Pennsylvania Turnpike Commission, the district attorney's office said. They added that all the defendants aside from Mansfield were also charged for driving without being properly licensed.
"The charges come as part of a continued crackdown on the most extreme cases of drivers using the state's toll roads without paying. The five charged last week are the second crop of drivers in a year to be charged in Bucks County, which is home to some of the state's most frequently flouted turnpike interchanges," the district attorney's office said in a statement.
Starting last year, the Pennsylvania Turnpike Commission stepped up efforts to catch up to those who avoid paying tolls that have piled up.
PennLive.com reported last year that a Turnpike spokesperson said the criminal complaints are filed against owners of vehicles who have piled up tolls and fees that exceed $2,000.
Prosecutors have stated in the past that thefts worth more than $2,000 are felonies of the third degree, which are punishable by up to seven years in prison and a $15,000 fine.
"Offending motorists typically enter and exit the turnpike through E-ZPass lanes, where cameras photograph vehicles as they pass through. The amount a driver owes is calculated based on the driver's entry and exit locations.However, a driver can be charged for traveling the full length of the turnpike if an entry or exit point cannot be determined," the district attorney's statement said.
Four of the five defendants are free on $20,000 unsecured bail and Macrina has not yet been arraigned.
Editor's Note:All individuals arrested or charged with a crime are presumed innocent until proven guilty. The story was compiled using information from police and public court documents.