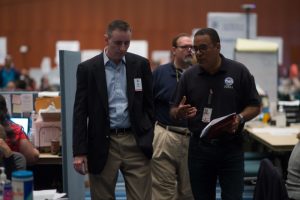 Congressman Brian Fitzpatrick will spend his third Thanksgiving in Puerto Rico.
The second-term Republican from Middletown will head to the island territory to oversee humanitarian and reconstruction aid after hurricanes Irma and Maria, which have been blamed for contributing to the deaths of nearly 3,000 people.
Fitzpatrick first started heading to the island for Thanksgiving starting in 2017.
"Following years of devastating hurricanes, the infrastructure of Puerto Rico is in critical condition. The damage to power lines, water pipes and roads has many families in my district concerned about the well-being of our fellow Americans," Fitzpatrick said in a statement. "The people of Puerto Rico deserve the unwavering support of their government and its lawmakers. I look forward to returning to the island to visit with first responders, officials, and residents to review and discuss the recovery effort."
On the trip, Fitzpatrick plans to meet with Federal Emergency Management Agency (FEMA) officials, the Puerto Rican Joint Recovery Office, Puerto Rico residents and The Salvation Army personnel. He will visit La Casa de Todos to deliver toys and food to orphans.