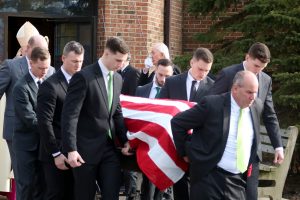 Thousands of people came out Thursday and Friday to remember former Congressman Mike Fitzpatrick, 56, who died on Monday after a long battle with cancer.
The line of mourners wrapped around the rear of Queen of the Universe Catholic Church on Trenton Road in Middletown's Levittown section Thursday evening for an hours-long visitation. On Friday morning, the visitation continued with a large crowd showing up to greet the family and for the funeral Mass that remembered the man who devoted himself to the area and its residents.
"Mike never wanted to serve anyone other than the people he lived with," recalled Father Thomas Moore Garrett, who worked for Fitzpatrick's congressional office before joining the priesthood.
Garrett told mourners about his experiences with Fitzpatrick and conveyed his knowledge of the congressman's ability to "flatten as many bumps on the road for as many people as he could."
"The people that God puts into our lives are his gift to us," Garrett said.
During the Mass, the family watched as Garrett recalled Fitzpatrick's life and legacy.
"Some of the kindest things anyone has done for me in this life came at the hand of your father, your husband, your brother," he said.
Bishop Timothy Senior said Fitzpatrick, a devout Catholic who was raised and lived nearly his entire life in Levittown, "took to heart" that "God is present in every person."
Speaking to the 1,000 mourners, Senior said a way to remember Fitzpatrick would be by giving back, even something simple, in the coming days.
The two-day visitation was filled with people who knew Fitzpatrick or just knew of his service. There were police officers, postal carriers, contractors, lawyers, politicians, and truck drivers.
Former Gov. Mark Schweiker; Ellen Saracini, a widow of the September 11 attacks who worked with Fitzpatrick to improve airline safety; former Lt. Gov. Jim Cawley; Congressman Dwight Evans, of Philadelphia; U.S. Sen. Pat Toomey; and former Under Secretary of the Army Patrick Murphy, who beat Fitzpatrick in the heated 2006 election, were among those in attendance.
Dan Hiner, who stopped on his way home from work, said he simply wanted to pay respects to a man who "represented Levittown."
Bristol Borough Council President Ralph DiGuiseppe said he knew Fitzpatrick for 20 years and struck up a friendship that transcended politics.
"I always said, 'there will never be another Mike Fitzpatrick,'" DiGuiseppe said. "Just the person he was, and he was just a down-to-earth guy."
A man who lived in the Forsythia Gate neighborhood in Levittown said he knew Fitzpatrick from around the neighborhood and services at Queen of the Universe Catholic Church.
"You know, I didn't know him real well, but he was a great guy, a stand up guy. That's why I'm here," he said.
Lorraine Cullen, a Bristol Borough Council member, said she appreciated Fitzpatrick's support of her town and wanted to pay her respects.
Attorney Don Petrille, who recently finished serving as Bucks County Register of Wills, said Fitzpatrick was an "accessible politician" who worked hard to attend every event.
"There was not an insincere bone in his body," Petrille said.
After the Mass, Fitzpatrick's family watched as his casket was carried out of the church with a bagpipe music being performed.
The former congressman and Bucks County commissioner's casket was loaded in a hearse and escorted by police motorcycles to his final resting place, Washington Crossing National Cemetery in Upper Makefield.
The burial location is full circle for Fitzpatrick, a dedicated public servant and history lover. During his first term in Congress, Fitzpatrick pushed hard to get the federal government to locate the region's newest veterans' cemetery at a 200-acre tract of farmland off Dolington and Washington Crossing roads. The location is only a short distance from where General George Washington's troops crossed the river to attack British-back Hessians during the pivotal Battle of Trenton on Christmas Day 1776.
Fitzpatrick, who was not a military veteran, needed special approval from federal officials to be laid to rest at the cemetery.
In his final days, according to Garrett, the priest met with the ailing Fitzpatrick and asked him how he wanted to be remembered.
Fitzpatrick's answer was a simple: "Lord, make me an instrument of peace."