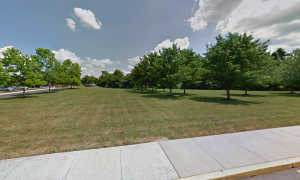 Old Navy is eyeing the Newtown Shopping Center as the location of the clothing retailer's newest location. 
Officials from the Newtown Township Planning Commission recently heard a proposal for a 12,500-square-foot, stand-along Old Navy store on an empty plot of land that sits between Bed Bath and Beyond and Piccolo Trattoria and backs up to the Council Rock High School North property. 
The Old Navy would use existing parking and also add more spots. A traffic study is expected to show that the addition of the new store would not complicate the shopping center's traffic situation, shopping center represents told the Planning Commission.
The Chick-fil-A in the Newtown Shopping Center plans to construct a 400-square-foot kitchen addition and rework the traffic flow around the popular eatery. The addition would not add any seats.
Peggy Driscoll, vice chair of the planning commission, told the Board of Supervisors this week that the Chick-fil-A proposal is due to the restaurant being so busy. 
The planners were fine with requested variances for the Old Navy proposal and Chick-fil-A.
The plans will go before the Zoning Hearing Board and would still have to be approved by the Supervisors.