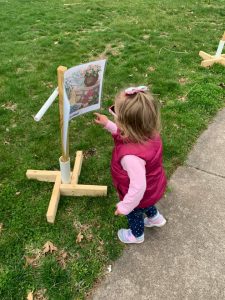 Elizabeth Griswold has brought a little sunshine to local families.
The outreach librarian for the Southampton Free Library set up a Story Stroll outside her home at Hartford and Burgundy lanes in the Woods of Saxony neighborhood in Newtown Township last week as the library is idled due to COVID-19. 
Just a few weeks ago, Griswold had the Story Stroll, which features a children's story posted on wooden poles, along a walking trail at Tamanend Park in Upper Southampton. The idea was to entertain young families as schools were closed. 
Then Upper Southampton closed their parks and the Story Stroll was homeless. No library. No parks.
As the mitigation measures kept families out of public places like libraries, Griswold, a mom herself, saw kids being cooped up and looking for something to do.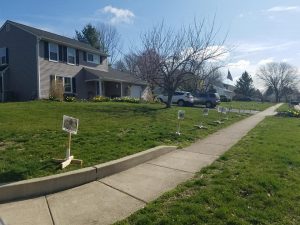 At that point, Griswold called her boss and got approval to put the Story Stroll up along the sidewalk outside of her home, a corner property. 
"Until then, it had been sitting in my car for a week," Griswold said with a chuckle.
Griswold said she has seen lots of neighbors walking by and kids following the Story Stroll.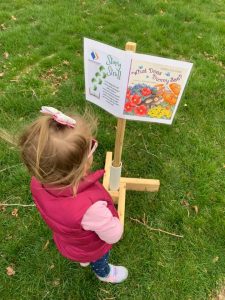 "I had a mom who said their kids went through three times on the first day," she said.
As the days pass, Griswold plans to change the story outside of her home on Wednesdays. She said the library has 10 themed strolls that are already laminated and ready to be posted.
"I saw people posting saw expressions of hope, and I think this can help a little," she said.