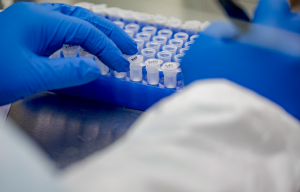 Bucks County saw its highest death toll and youngest victim during the pandemic.
A 31-year-old man with disabilities and COVID-19 who lived in a Levittown group home died. In addition, 10 Bucks Countians ranging in age from 73 to 95 died.
While it marked the highest death toll on Tuesday, Bucks County Health Department Director Dr. David Damsker said six deaths happened on Sunday or Monday and weren't reported until Tuesday.
In total, 52 residents with COVID-19 have died since the pandemic began impacting the county. The county's death total is the third highest in the state behind Philadelphia and Montgomery County.
"We all connect with the families as they face these losses," said Bucks County Commissioners Chairperson Diane Ellis-Marseglia.
With many of the deaths impacting older residents, Ellis-Marseglia said, ""In these losses lie much of the history and wisdom of Bucks County."
The county reported 128 new COVID-19 cases on Tuesday, bringing the total to 1,399.
Damsker said the spike in cases after days of fewer new positives was largely due to nursing homes that tested all their residents.
"Many of these were the results of mass screenings in longterm care facilities," he said.
There were COVID-19 outbreaks at 34 congregate living facilities in the county as of publication time.
"When all of this is said and done, I don't think there will be any congregate care facility that won't have at least one positive case, either among a resident or someone working there," Damsker said.
The county's top health official said he expects cases to decrease in the coming days, but expects deaths among older residents to rise.
"I suspect that, for the immediate short-term, we may have multiple deaths most days of the week," he said. "The average age of the people who have died is around 80, and while it doesn't lessen the impact on their families, it should help to know that these are not people who have become infected from being out in public. We luckily also have not had a death of anybody who did not have underlying medical conditions."
The county reported 103 Bucks County COVID-19 patients were in hospitals and 24 were on ventilators in critical conditions.
As of Tuesday night, 264 patients have recovered from COVID-19 in the county.