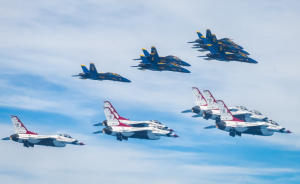 Aviators from the U.S. Navy's Blue Angels and pilots from the U.S. Air Force's Thunderbirds jet demonstration teams will perform flyovers in nearby Philadelphia and Trenton.
The fast-flying show will start Tuesday around 1:45 p.m. as the military jets start from Joint Base McGuire-Dix-Lakehurst in New Jersey and quickly head over Trenton. The flyover performance will next head along the Delaware River to flaunt their moves over Philadelphia around 2 p.m. and then finish in Wilmington by 2:15 p.m.
The joint effort is designed to recognize healthcare workers, emergency responders, and other essential personnel while showing solidarity with all Americans. It is titled "America Strong," according to the military.
On Tuesday at noon, the Blue Angels and Thunderbirds will fly over New York City and northern New Jersey before their local leg of the tour.
The flyover is the first of several planned for areas of the nation hit hard by COVID-19.
"We're excited to fly over cities across America as our way of saying thanks to the healthcare workers, first responders, and all the people who selflessly run into the breach working to keep America strong," said Gen. Dave Goldfein, chief of staff of the Air Force, and Admiral Michael Gilday, chief of naval operations. "This is also our way of showing that we are all in this together and that America's spirit will prevail."
The Florida-based Blue Angels and Nevada-based Thunderbirds have been practicing The Sunshine State since last week. A draft plan for the flyover was circulated online last week.
The Air Force and Navy said the are working with local authorities to "ensure spectators follow Centers for Disease Control and Prevention social distancing guidelines."
To maintain social distancing among the air crews, air-to-air refueling will be used during transit and no scheduled stops on the way to destinations will be taken to reduce potential exposure to COVID-19.
With many of the Blue Angels and Thunderbirds performances cancelled or postponed, the nationwide tour starting in the region on Tuesday will help them meet "critical training requirements for both teams" and assist flyers in obtaining their minimum required number of flight hours.
The military said the flyover is not expected to cost taxpayer additional funds.