By Christen Smith | The Center Square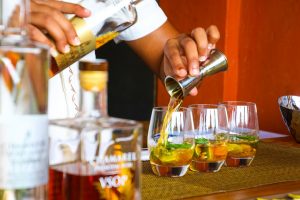 Pennsylvania lawmakers approved a measure Wednesday to allow restaurants, bars and taverns to sell mixed drinks to go.
Yardley-based Democratic State Rep. Perry Warren's House Bill 327 passed the lower chamber on a vote of 193-9 less than a day after Rep. Kurt Masser, R-Northumberland, introduced an amendment that provided for alcohol takeout sales as a way to soften the financial blow many establishments are weathering during the pandemic.
The amendment related to COVID-19 would grant restaurants and hotels that have seen more than 25 percent of their average monthly sales sell pre-made beverages and mixed drinks for off-premise consumption. The mixes can be sold in quantities of 4 ounces to 64 ounces during the disaster emergency and mitigation period.
Warren's bill was design to alter the state liquor code to clarify the process on a referendum for the sale of liquor in a municipality in a primary, municipal, or general election.
The bill was drafted as efforts are underway to end Lower Makefield's 70-year-old policy outlawing the sale of alcohol within its borders. The community is the only dry town in Bucks County.
Newtown-area state representative Wendy Thomas voted in favor of the bill.
The bill next heads to the state Senate.
Chuck Moran, executive director of the Pennsylvania Licensed Beverage and Tavern Association, said the bill "makes it a little easier" for restaurants, bars and other r-licensed businesses to survive. A National Restaurant Association study estimates that the state's food service industry will lose more than $1.8 billion in sales in April, and 96 percent of operators have laid off or furloughed their staff since Gov. Tom Wolf issued shut down orders last month.
"The governor's reopening plan suggests it could be many more months until all Pennsylvania counties reach a 'green phase,' which is why finding additional revenue streams for small business taverns and licensed restaurants is so important for their survival," Moran said.
David Wojnar, vice president of state government relations at the Distilled Spirits Council of the United States, said the bill also eases the burden on the state's strained liquor stores, which have struggled to meet demand in recent weeks.
"Sporadic e-commerce and limited curbside pickup of distilled spirits are measures that will help alleviate some of the problems caused by Governor Wolf's decision to close all spirits stores in March, but it won't solve them," he said. "Allowing r-licensees to sell to-go cocktails will provide consumers additional convenience they want and deserve. This is a commonsense solution that will help small business owners struggling to cope with the impacts of COVID-19."
Alcohol sales have skyrocketed since Wolf rescinded – albeit partially – his order to shutter roughly 600 state-run liquor stores on March 17. The Pennsylvania Liquor Control Board said online and curbside sales combined have exceed $7.1 million in the first three weeks of April alone, outpacing the prior sales year by 42 percent.