By Christen Smith | The Center Square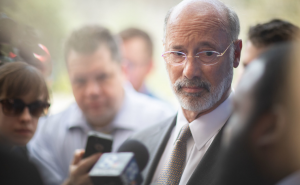 Pennsylvania Gov. Tom Wolf said he's against declaring bankruptcy as a panacea to the state's anticipated budget shortfall as a result of the coronavirus pandemic.
Wolf's comments come after Senate Majority Leader Mitch McConnell, R-Ky., said financially struggling states should file for bankruptcy rather than wait for another coronavirus relief bill.
Pennsylvania has received $5 billion from the federal government to respond to the COVID-19 health crisis, which has sickened nearly 52,000 residents and killed over 3,100. The 2020-21 budget deficit, however, could widen to $3.9 billion as the economic shutdowns extend in week eight."I would certainly be in favor of allowing states to use the bankruptcy route," McConnell told the Hugh Hewitt Show on April 22. "It saves some cities, and there's no good reason for it not to be available."
"My guess is their first choice would be for the federal government to borrow money from future generations to send it down to them now so they don't have to do that," he continued. "That's not something I'm going to be in favor of."
Wolf told reporters during an April 24 news conference that he – like most Democrats at the state and federal level – rejects the idea.
"I disagree with Senator McConnell, and I think we need the federal government to do what it's doing, and that is to provide funds to help states meet the COVID epidemic," he said.
Sen. Bob Casey, D-Pa., called the idea "insulting, reckless and cruel," especially to teachers, firefighters, first responders and the communities most strained during the pandemic.
"Republicans were happy to provide a tax giveaway to the super-rich and biggest corporations in 2017, which is expected to drive up the deficit by $1.9 trillion over ten years," he said in an email on Wednesday. "And yet, decades of disinvestment in local, state and federal governments has left us unable to do the basic things that many other countries are doing for their citizens during this pandemic. We need governments that are resourced to respond to the needs of the people, in good times and in bad times."
The $2.2. trillion CARES Act passed through Congress in March established a $150 billion Coronavirus Relief Fund for states and local governments. House Democrats, however, want to beef up that emergency aid in a second iteration of the bill anticipated in the chamber later this month.
McConnell and other legislative Republicans, however, have signaled an unwillingness to spend more money until the impacts of the first CARES Act are more widely understood.
"We all have governors, regardless of party, who would love to have free money," McConnell said during the same interview. "And that's why I said … we're going to push the pause button here, because I think this whole business of additional assistance for state and local governments needs to be thoroughly evaluated."
Republican Pennsylvania Sen. Pat Toomey didn't write off the bankruptcy path entirely, though he admitted it is complex.
"Senator Toomey is open to examining whether states should be able to avail themselves of federal bankruptcy protections," said Bill Jaffee, a Toomey spokesperson. "However, it would take a change in law and there are constitutional questions that would need to be considered."