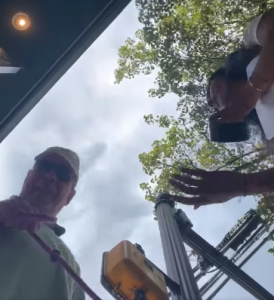 A 63-year-old Newtown Township man was cited following an incident that happened Monday outside of the Starbucks on State Street in Newtown Borough.
Borough police confirmed that Vincent Lewis, 63, was issued two citations for two summary offenses – harassment and criminal mischief. Court records show the citations were issued Wednesday.
Word of the charges came after a series of videos showing the incident went viral on local social media.
According to the video and a viral social media post by local resident Anju Madnani, Lewis bothered her 22-year-old daughter and 18-year-old son as they placed flyers in Newtown Borough following the killing of George Floyd by police in Minneapolis.
"The woman and her husband would not stop harassing them, yelling across the street and accusing them of breaking the law and corrupting 'her' community. They then flagged down an Emergency Services car and demanded that they call the police because they thought that what my children were doing was 'illegal,'" Madnani wrote.
"When my daughter started recording the incident (as she has every right to), the woman's husband hit my daughter's hand, causing her phone to fall and crack," she stated.
The video posted on Facebook shows Lewis and what appears to be his significant other arguing with the person taking the video following the strike to the phone.
"You're messing with the wrong girl," the woman with Lewis said.
"My husband did not touch her," the woman told police officers who responded to a disturbance complaint related to the incident.
In a statement, Newtown Borough police said the charges were filed after their investigation found Lewis made contact with the woman, causing her phone to be knocked away and damaged.
"The facts of the case, along with the video, were reviewed by the District Attorney and there was a consensus that the most appropriate charges given the facts of the incident are harassment for making contact with the victim and criminal mischief for causing damage to the phone when it was knocked from the victim's hands," police said Wednesday evening.
"During these tough times, our community needs to come together and support every citizens inalienable rights under the constitution," police said.
"The Newtown Borough Police Department is appalled by the actions of the people responsible for the death of George Floyd. Our thoughts and prayers are with the Floyd family," they added.
The offenses against Lewis each carry a maximum $300 fine. Prosecutors also plan to seek restitution for the woman's phone.
Editor's Note: All individuals arrested or charged with a crime are presumed innocent until proven guilty. The story was compiled using information from police and public court documents.