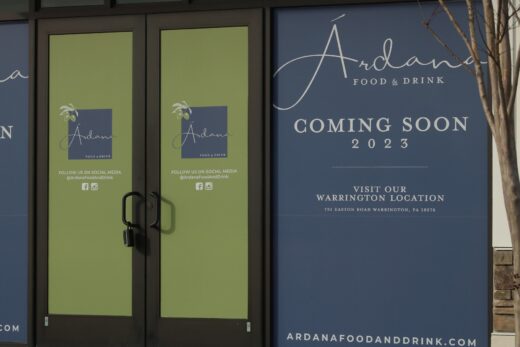 The closed Solstice restaurant and bar in the Village of Newtown Shopping Center will be the home to a new eatery soon.
Árdana Food and Drink plans to open soon in the Newtown Township shopping center. The business posted on social media that they are aiming to open in March.
Árdana Food and Drink operates its first location in The Shops at Valley Square center in Warrington Township. The Newtown Township location will be the second one for the Mediterranean concept.
Antoni and Mike Christou own Árdana Food and Drink and KC Prime Steakhouse, which is located in Warrington Township near the Doylestown Township border. The brothers grew up in Newtown Township.
The Christous' restaurant was inspired after the hamlet in Cyprus where their grandmother was raised. Árdana is the name of the small farming village where she grew up.
Contractors were seen recently working inside of the soon-to-open 9,000-square-foot Newtown Township location.
The eatery describes itself as an "upscale casual restaurant inspired by the vibrant flavors of the Mediterranean."
Árdana Food and Drink announced to customers in late 2022 on social media that they were expanding with the Newtown Township location. Their announcement seemed to have received a positive response based on the comments.
Solstice opened in March 2020 just days before COVID-19 shutdowns, but reopened and operated through May 2022 when it closed for good.