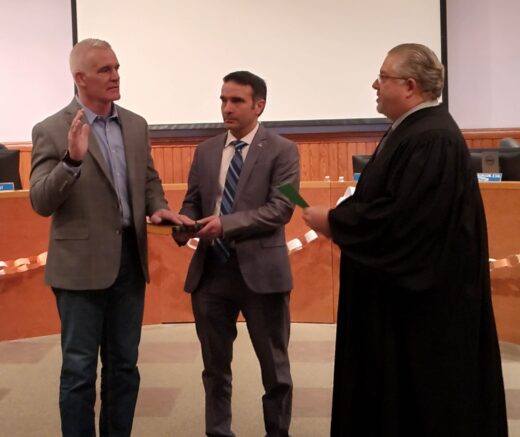 At special meeting Tuesday evening, the Council Rock School Board voted 5-3 to appoint Wrightstown Township resident and Republican committeeman Stephen Nowmos to the governing body.
The Region 9 seat, which covers all of Wrightstown Township and a small part of Newtown Township, became vacant with the resignation of newly-elected State Rep. Kristin Marcell.
Nowmos, along with Nicole Khan, and Patricia Chandler, were the three candidates interviewed for the position.
However, before the selection process could get underway, Newtown resident Jennifer Igval and others brought up concerns they had with Nowmos regarding Facebook posts under an account they alleged belonged to him.
"I recommend that you take a look at some of his posts. He shared several memes that I think virtually anyone would find offensive and hateful." Igval went on to describe some of the memes as she held up printed-out screenshots of them.
She later added, "This man cannot be the best that Council Rock has to offer. Please do the right thing and eliminate him from consideration. He may look technically qualified on paper but his public posts reveal otherwise."
During his interview, Nowmos categorically denied that any of the items in question were posted by him.
"If you had a Bible here I'd put my hand on it and I would tell you that I have not opened up a Facebook page in more than five years. I don't think I've ever posted anything on Facebook since its inception."
He added, "I don't really even use social media so I just wanted to clear my name and I want you to know that those statements were not posted or authored by myself."
In an email sent to NewtownPANow.com, Igval responded to Nowmos' comments.
"Mr. Nowmos' Facebook page has featured a litany of posts and memes that demonstrate contempt for many of the voters, parents, and students he is now supposed to represent," she said.
"Our new School Board member is starting his tenure by publicly misleading or perhaps lying to his fellow Board members and to Council Rock voters, and with offensive material on a Facebook page that bears his name and picture."
She added, "Rather than address this evidence of Mr. Nowmos' unfitness to serve, the board chose to ignore it. They had the opportunity to appoint a candidate who will focus on education rather than fomenting the political divisiveness and distractions that are crippling our neighboring school districts."
Council Rock's newest School Board Director is a graduate of Temple University and the University of Florida with a doctorate in Pharmacy. He previously served on the Bensalem School Board from 2008 to 2010 in the same capacity he holds now.
Nowmos has lived in Wrightstown Township since 2010 and stated that he only became interested in joining the board after the resignation of Marcell last month.
He outlined his philosophy for the position.
"My focus is everyone gets the same opportunity and attention that they deserve. I've been effective with relationship building, that's 50 percent of my current job. I've been doing it for 15 years," he told the public.
He continued, "I think I can follow Kristin's footsteps and continue her philosophy of what the voters voted for her until November. I also think that being a school board director, there's a learning curve. You need to learn the ropes, you need to understand the system, and I think having three years of experience being a school board director is valuable."
"For me, my mainstay philosophies are kids first, so the decisions that I would make would be, at the end of the day, in the best interests of students. The second is we have to remember that there's a huge budget and 75 percent of that is paid by taxpayers who don't have children in the system. I think we just need to be financially responsible and keep kids' best interests in mind."
Board President Ed Salamon explained why he was supporting Nowmos.
"This is my only opportunity to fill the seat for the Wrightstown and Newtown communities and they voted for Kristen Marcell. For me, I need somebody that's going to have the same type of thinking that Kristen did. I've had that conversation and I'm comfortable making him my number-one pick," he said.
Salamon added, "No matter who gets the seat. I hope you all consider running for this position and let the voters decide because that's who should be deciding the seat, not eight board members."
In the end, Nowmos was appointed to the board with the support of five Republicans: Salamon, and members Dr. Michael Thorwart, Michael Roosevelt, Bob Hickey, and Joe Hidalgo. Mariann McKee, Yota Palli, and Ed Tate, the three Democrats on the board, supported Khan. Both Nowmos and Khan are likely candidates for the seat in the upcoming primary.