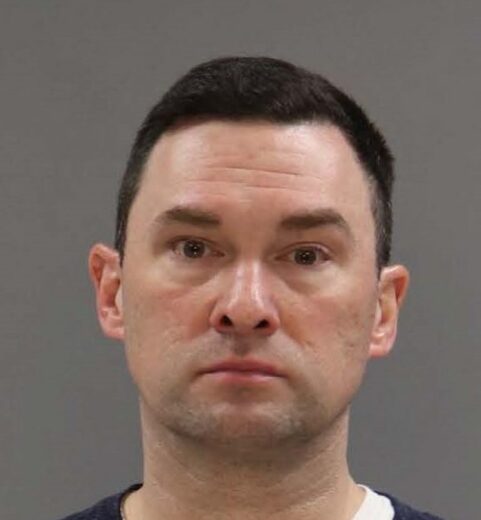 UPDATED: 4:45 p.m., Thursday:

A Council Rock High School North teacher was charged Thursday with attempting to meet a person he believed to be a minor for a sexual encounter, according to authorities.
Social studies teacher Steven Allan Struzinski, 42, of Plumstead Township, was preliminarily arraigned before District Judge Stacy Wertman on charges of criminal attempt to commit involuntary deviate sexual intercourse and criminal attempt to commit unlawful contact with a minor.
Struzinski has been placed on administrative leave, according to the Council Rock School District.
Buckingham Township police began investigating on March 1 when a person went to officers to file a report of a man who allegedly had unlawful communications with a minor, authorities said.
The person who made the report said that between May 20, 2022 and May 23, 2022 he had been messaging an adult man, who was ultimately identified as Struzinski, while pretending to be a 13-year-old boy.
The witness claimed that he first contacted Struzinski on a social media dating service, where he told Struzinski that he was 13 years old. Despite this, Struzinski allegedly requested sex, started graphic sexual chats, and planned to meet the child on May 23, 2022 at George Bush Park in Buckingham Township, according to authorities.
According to the witness, Struzinski showed up at the park that day at 3 p.m. Once a bystander snapped a picture of the car and its license plate, Struzinski left the area, authorities said.
This month, when a photo of the license plate was provided to police, officers were able to link it to Struzinski.
Struzinski was being held as of Thursday afternoon at the Bucks County Correctional Facility on 10 percent of $250,000 bail.
Superintendent Dr. Andrew J. Sanko said in a letter to the community no students were involved and additional counselors will be present at the Newtown Township high school on Friday.
According to his LinkedIn page, Struzinski listed that he has worked in the Council Rock School District for close to 20 years.
Original Story:

A Council Rock High School North teacher has been arrested for an alleged crime involving a minor who was not a student, officials said.
The district alerted the community Thursday afternoon that the staff member is on administrative leave and has been arrested after an investigation by Buckingham Township police and the Bucks County District Attorney's Office.
While the district did confirm the staff member is a teacher, a source said the staff member is a high school teacher.
The name of the teacher was not confirmed and charges were not immediately available.
More to follow.
Below is a letter from Superintendent Dr. Andrew Sanko:
Dear Council Rock Community,
Today, the Buckingham Township Police Department and the Bucks County District Attorney's Office informed us that a Council Rock North staff member has been arrested for allegedly committing criminal offenses involving a minor. At present, it is our understanding that the minor was not a student in the Council Rock School District.
The staff member has been placed on administrative leave. We will be investigating the conduct of this employee. This is an active law enforcement investigation, and at this time, we have no additional information.
All Council Rock employees have all clearances required by law that are closely monitored for compliance by our Human Resources department.
Our top priority remains the safety and welfare of our students and staff, especially during this challenging time. Any person who has relevant information to this investigation should contact their local law enforcement agency. The Bucks County District Attorney's office is handling this case and any questions should be directed to their office.
We recognize that this is very concerning to all and understand that our students may react differently. There will be additional counselors present at Council Rock North on Friday, March 10 to assist students and/or staff who may require support. If you are concerned about how your child is coping with this information please contact his or her school counselor.
Respectfully.

Dr. Andrew J. Sanko

Superintendent of Schools